Give a kid a camera, let 'em loose in the woods or a field or along a creek and some very special things happen.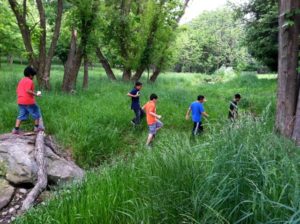 Intense observation, concentration, creative problem solving: ART. Ansel Adams' mother said that after being in nature, her ADHD son was calmer and more focused. Later, Adams took his focus and his camera into nature and photography has never been the same.
On Saturday, June 9th a very special exhibition of young Ansel Adamses opens across from Lilly Magilly's Cupcakery at the Washingtonian Center in Gaithersburg. It's a display of photographs and photo-collages by nearly 100 fourth graders from Gaithersburg Elementary School. Don't miss the reception on Saturday from 1:30 to 2:30 PM at 217 Boardwalk Place (click here for directions).
The students are p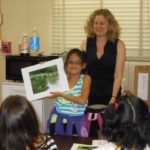 art of two very interesting eco-based photography programs led by AHCMC's teaching artist Joanne Miller.  Joanne's gotta thing for nature. She likes it. Lots. An art photographer focusing her camera lens on wildlife living at the edge of urban landscapes, Joanne is well known in the region for her hauntingly beautiful photographs. AHCMC was pleased to have her included in the inaugural exhibition, Three Visions of Nature, at the Kramer Gallery in 2010 (click here). We're equally delighted to have Joanne bring her own special brand of ecology and art to AHCMC's Arts Integrated Residencies. You can find Joanne here in our Teaching Artist Roster.
"Photography offers kids a creative opportunity to experience the wonder of nature through the eye of a camera," Joanne told me. "As they master new skills and discover the simple beauty of the outdoor world, a change takes place in their art and personal expression."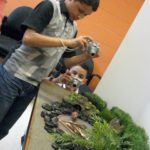 Working with the fourth grade teachers–Susan Knutson and Patricia Kennedy–Joanne led an in-school residency supported by a grant from AHCMC that integrated art, science and technology.  When Joanne works with kids, she gives them digital cameras to learn on. The students photographed the nature around their schools and made and photographed model ecosystems in the classroom. When they were done photographing the fun really began. Just because her students are in fourth grade doesn't mean Joanne stints on learning. Nope, students learn how to upload and manipulate their photos on Macs and PCs. Using school computers, the printed photographs and created photo-collages.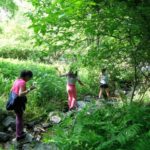 "The fourth grade students thoroughly enjoyed linking nature, photography and the arts," said Lisa Lewis, a teacher at Gaithersburg Elementary. "They truly have a new found respect for how nature plays an important part of our world.  This program was a great experience for our students and was a perfect match for our curriculum."
What did the students think?
"I like the way we were able to look at nature inside and then go outside to take real photos," says Raquel.  "You could compare and contrast environments."
"Since March, I've noticed more changes in nature," said Vanesa.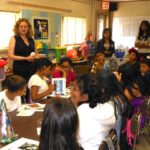 Gaithersburg Elementary School has a student body of almost 700 students ranging from Pre-K to Kindergarten with a large ESOL population. They've also got some great afterschool partners, like Linkages to Learning (LTL) and Identity. Together LTL and Identify worked with teaches and administrators to build a nature and photography after-school program. Fifteen students were selected to participate and Joanne was contracted to teach this program as well. Funding for the after-school program was community driven with a grant from the City of Gaithersburg, individual donors and some funding and in-kind help from Asbury Methodist Village.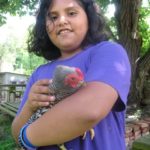 In this 9-week after-school program, students learned about the visual language of art and photography and explored nature around the school, at a local farm and in the wildlife habitat of Asbury Methodist Village. Students created photographic hand-made books and exhibition prints, while developing positive self esteem and respect for the natural environment, and as Joanne believes, " an understanding that they [the children] are an important part of the world around them."
When I asked Joanne why bother with an exhibition, she said: "Building self esteem, it's a valuable experience for children to be honored by their community for their creative vision. When a child points to their photograph in a public exhibition, immediately you see the pride in their eyes and smiles, and so valuable too, a sense of pride in their parents hearts."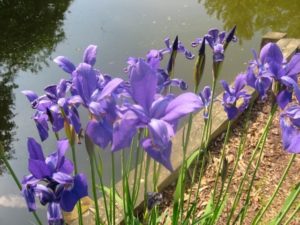 These two nature programs have done more than build knowledge and skill, they're building awareness and pride in the students, the schools and the community. Local business The Peterson Companies stepped up to the plate and graciously offered and exhibition space for the exhibit at the Washingtonian Center. Joanne worked with GreenKids to plan the exhibition and host the reception.
It took a village to put these programs together and the village has succeeded tremendously. Kudos to you Gaithersburg!
The exhibition will be on display at the Washingtonian Center indefinitely. You can see if from the street at 217 Boardwalk 24/7.