About Certain Party or Parties Unknown
*Content Warning*
Please be advised the projection art installations in Certain Party or Parties Unknown contain sensitive material that may awe, illuminate, challenge, unsettle, confound, provoke, and, at times, upset visitors. 
History + Description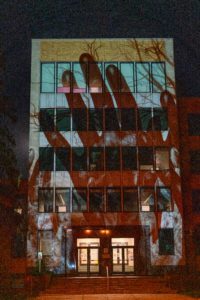 Certain Party or Parties Unknown (CPPU) is a temporary multi-media public art exhibition furthering community dialogue about racial justice in Montgomery County. As a member of Montgomery County's Remembrance and Reconciliation Commission (Commission), the Arts and Humanities Council of Montgomery County (AHCMC) launched this project in support of Remembrance and Reconciliation Month and this time of reflection to better understand our full history.
This social justice art exhibition brings awareness to the three African American men who were victims of racial terror lynchings in Montgomery County in the late 1880s: Mr. John Diggs-Dorsey, Mr. Sidney Randolph, and Mr. George Peck. AHCMC commissioned six regional artists to project temporary public art installations onto eight county sites in downtown Rockville on November 5 – 6, 2021. Experienced projection artist Robin Bell of Bell Visuals is the lead on this project and working alongside these artists to develop their installations in this new form of digital artistic expression. 
Bell Visuals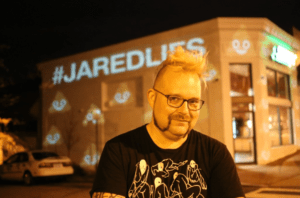 Robin Bell, founder of Bell Visuals, is an award-winning editor, video journalist, and multimedia artist based in Washington DC. Robin works on a range of creative, political and public interest projects. Building upon his formal training as a classical printmaker, Robin developed a unique style of live video collage which he has performed at well-known venues, including The Kennedy Center, 9:30 Club, The Phillips Collection in Washington DC, Central Park Summer Stage in NYC, and The Hollywood Bowl in Los Angeles California. AHCMC is thrilled to work with Robin on Certain Party or Parties Unknown as we strive to deepen community conversation and understanding of Montgomery County's history and the critical need to build a more equitable future for all residents.  
Community Partners
AHCMC would like to specially thank all community partners who rallied behind us to ensure this exhibition came into fruition! We could not have accomplished this without your support.
| | | | | | | | | |
| --- | --- | --- | --- | --- | --- | --- | --- | --- |
| | | | | | | | | |