The Arts and Humanities Council of Montgomery County (AHCMC), is the designated Local Arts Agency for Montgomery County Maryland; a 501 (c)3 nonprofit organization and a non-departmental agency of Montgomery County Government.
What We Do
Grantmaking
Crowdfunding
Technical Assistance
Advocacy
Professional Development
Public Art
Business Development, Training, and Support
Promotion of Arts and Cultural Offerings, Organizations, and Individuals
Who We Serve
AHCMC serves all residents of Montgomery County by investing in the growth and sustainability of a vibrant arts and cultural sector through the generous support of county, state, and federal funds and donations by individuals, corporations, and foundations.
Our Impact
AHCMC is the largest arts and humanities funder in Montgomery County

The Arts & Humanities thrive in Montgomery County as an integral sector supporting our local economy.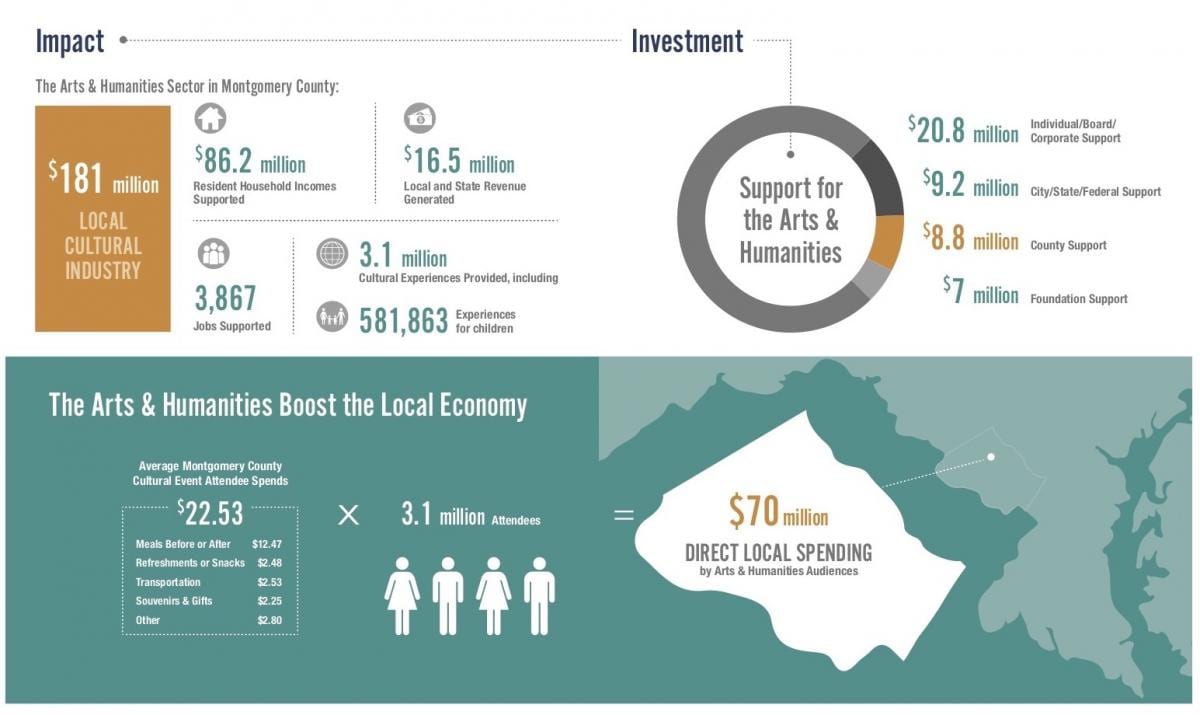 *About the Data – The data used for this report is from 2017 and was provided by DataArts and The Cultural Data Profile, and the Arts and Economic Prosperity 5 study, a project of Americans for the Arts. For more information on the Cultural Data Profile, please visit www.culturaldata.org. To see the full Arts and Economic Prosperity 5 study for Montgomery County Maryland, please visit www.creativemoco.com/AEP5. Dollar amounts may include, but are not limited to: direct funding, value of in-kind contributions, and sponsorships.