About the Public Arts Trust
The Public Arts Trust began in 1995 when the public art program was restored by a new law. Chapter 8 of the Montgomery County Code, Article VI Works of Art in Public Architecture, Section 8-45 states: "Each year the County Council should consider appropriating funds for the next fiscal year to the Public Arts Trust in an amount equal to 0.05% of the combined total approved capital expenditures for the then-current fiscal year for County Government, Public Schools, Montgomery College and Maryland-National Capital Park and Planning Commission."
The precursor to the Public Arts Trust began in 1983 when the County Art in Architecture Program mandated that 1% of certain County capital projects be set aside for the acquisition and commissioning of artworks. At the same time, separate public art programs were administered at Montgomery College, Montgomery County Public Schools, and the County parks system. More than 200 works were collected during these programs.
Today, the Public Arts Trust continues to commission site-specific works and supports other public art projects throughout Montgomery County. The Trust is Montgomery County's central program for managing and commissioning all public art on County-owned property.
Learn more about our conservation and maintenance efforts for the collection here.
Public Art Trust Steering Committee
Eleanor Choi, Chair – Arts and Humanities Council of Montgomery County
Robin Riley – Department of Recreation

Patricia Shepherd – Department of Transportation

Greg Ossont – Department of General Services

Hamid Omidvar – Department of General Services

Greg Wims – Upcounty Regional Center

Claudia Rousseau – Montgomery College

Melissa Williams – Maryland National Capital Parks and Planning Commission

Nick Holdzcom – Maryland National Capital Parks and Planning Commission

Patricia McManus – Maryland National Capital Parks and Planning Commission – Parks

Seth Fariano – Montgomery County Public Schools

Shelly Williams – City of Gaithersburg

Betty Wisda – City of Rockville
Public Art Guidelines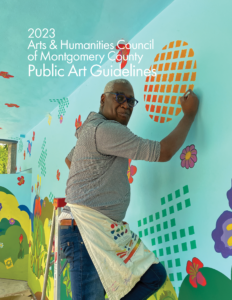 Public Art Roadmap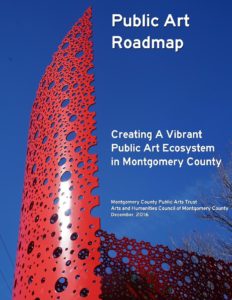 A Map of Featured Outdoor Works: