Announcement
Town of Chevy Chase Considers Moving 'Girl with Hoop' Sculpture to a Sustainable Garden – The Town of Chevy Chase, in coordination with the Public Arts Trust and the Arts and Humanities Council of Montgomery County, is considering the relocation of a sculpture, entitled Girl with Hoop, to a new sustainable garden in Zimmerman Park, located at the intersection of East West Highway and Maple Avenue. We believe that this artwork, sculpted by late Town resident Jenny Read, could make a nice addition to the garden and would serve as a fitting tribute to late Town resident Lee Dennison, whose bequest funded the new garden.
Before making a final decision about the proposed relocation, we would like to hear from the community. If you would like to comment on the proposed relocation, please contact the Town of Chevy Chase at 301-654-7144 or townoffice@townofchevychase.org by April 15.  We will review all public comments and determine whether to proceed with the relocation.
About the Public Arts Trust
The Public Arts Trust began in 1995 when the public art program was restored by a new law. Chapter 8 of the Montgomery County Code, Article VI Works of Art in Public Architecture, Section 8-45 states: "Each year the County Council should consider appropriating funds for the next fiscal year to the Public Arts Trust in an amount equal to 0.05% of the combined total approved capital expenditures for the then-current fiscal year for County Government, Public Schools, Montgomery College and Maryland-National Capital Park and Planning Commission."
The precursor to the Public Arts Trust began in 1983 when the County Art in Architecture Program mandated that 1% of certain County capital projects be set aside for the acquisition and commissioning of artworks. At the same time, separate public art programs were administered at Montgomery College, Montgomery County Public Schools, and the County parks system. More than 200 works were collected during these programs.
Today, the Public Arts Trust continues to commission site-specific works and supports other public art projects throughout Montgomery County. The Trust is Montgomery County's central program for managing and commissioning all public art on County-owned property.
Learn more about our conservation and maintenance efforts for the collection here.
Public Art Guidelines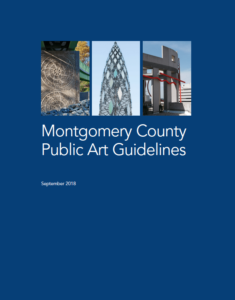 Public Art Roadmap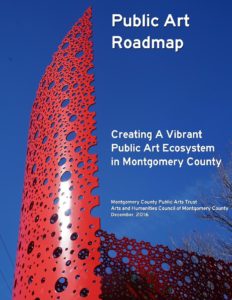 A Map of Featured Outdoor Works: