The Betty Mae Kramer Gallery presents Impressions, an exhibition featuring artworks from 2 Montgomery County-based artists: Sookkyung Park and Caroline MacKinnon. 
Impressions: Workshop with Caroline MacKinnon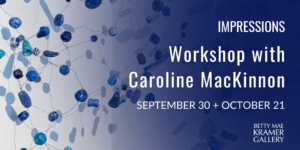 Meet the Artist + Contribute to a Work of Art! 
Join local artist Caroline MacKinnon for a hands-on artmaking workshop on Saturdays, September 30th and October 21st at the Betty Mae Kramer Gallery and Music Room.
Drop by anytime between 12:00 p.m. and 2:00 p.m. on September 30 or October 21 for the chance to meet Caroline and create small textured clay "Remnants" to add her Remnants Project sculpture. 
Exhibition Description
Impressions
Curated by: Flannery Winchester, Public Art Manager at AHCMC
On View: August 4 – October 20, 2023
Gallery Hours: Fridays from 9:00 a.m. – 3:00 p.m.
Impressions explores our ancient and contemporary relationships to the natural micro and macrocosms around us and considers the small and large indentations we leave on the earth today. This exhibition combines the work of two artists, Sookkyung Park and Caroline MacKinnon, who utilize origami and ceramic mediums to capture their impressions of natural phenomena in tactile reflections and symbolic forms. 
Featured Artists: Sookkyung Park and Caroline MacKinnon.
** Masks are encouraged for all guests, regardless of vaccination status. Outside food and beverages are not permitted in the gallery with the exception of water. **