The Arts and Humanities Council of Montgomery County (AHCMC) is thrilled to announce Jazz at the Kramer! A new music series in partnership with Paul Carr's Jazz Academy of Music presenting a free evening of jazz at the Betty Mae Kramer Gallery & Music Room on the second Wednesday of every month. 
Admission is FREE but advanced registration is required due to limited capacity.
** Masks are required for all guests, regardless of vaccination status. Food and beverages are not permitted in the gallery. **
Second Wednesdays: Jazz at the Kramer featuring Chris Grasso on Piano and Zack Pride on bass.
Second Wednesdays: Jazz at the Kramer featuring Allyn Johnson on Piano and Amy Shook on bass.
---
Jazz at the Kramer
Event Listing
Wednesday, August 10, 2022
6 p.m. at the Betty Mae Kramer Gallery and Music Room
Join us for a night of jazz featuring Marshall Keys on saxophone and Federico Peña on piano!
RSVP HERE
August Musicians
Marshall Keys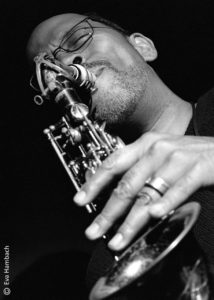 "Alto and soprano saxophonist Marshall Keys has a solid, soulful tone and a knack for lines that start out as simple lines and seemingly take on a life of their own, developing into elaborate, smartly constructed melodies. He's a true virtuoso musician who has something personal and erudite to say on the instrument."
A native of Washington DC, Marshall began began in the DC Youth Orchestra Program, then flirted with jazz studies at Howard University, all the while working with legendary jazz musicians like Jimmy Witherspoon, Jimmy Heath, Pepper Adams, Miriam Makeba, Jimmy Scott, Stevie Wonder, and the blues organistJimmy McGriff with which he recorded the album "Countdown".
The most resume friendly span of Marshalls' long career probably begins with the Kennedy Center Tribute to Lionel Hampton in 1981. Marshall performed the iconic "Flying Home" along with Milt Hinton, Al Grey, Clark Terry, Zoot Sims, Illinois Jacquet and Lionel Hampton. There was the Commission by the Smithsonian Institute to perform the works of Wayne Shorter, performing and speaking at the Romare Bearden Exhibit when it opened at the National Gallery of Art, tours to Central and South America, Guinea and West Africa as well as festival performances in the UK, France, Mexico, Indonesia, Germany, Ireland, The Netherlands and the US Virgin Islands. All mostly before the first iPhone was released…

Marshall has stuck close to home in recent years and is unapologetic in his belief that thanks to his collaborations with the world class musicians and institutions in DC, this is the most productive and satisfying period in his long career.
Federico Peña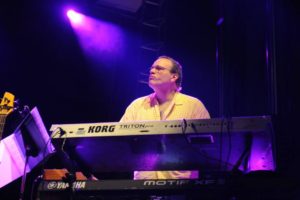 Before leaving Buenos Aires for North America in 1984, Uruguay born Pianist Federico Pena honed his craft under the watchful eye of some of Argentina's top session players and producers like Gustavo Donez (Sweater), El Soca, Daniel Colombres, El Mono Fontana, Juan del Barrio and Jota Morelli. After studying intensely under world renowned Argentine concert pianist Antonio de Raco, in 1984, at 18-years old, Peña made the move to the States, attending the Berklee College of Music for one year before settling in Washington, D.C. He landed gigs with the city's best go-go bands and began to spread his wings from there. Pena continues to demonstrate his superior talents working with an extensive list of well known artists such as Me'shell N'DegeOcello, Maxwell, Angela Boffill, Rare Essence, Pieces of a Dream, Digable Planets, Alana Davis, George Howard, Roy Hargrove, Chaka Khan, Cassandra Wilson, Marcus Miller, SMV (Stanley Clarke, Marcus Miller & Victor Wooten) and many others. He also played in the trio Gaïa with harmonica player Grégoire Maret and drummer Gene Lake. Currently he occupies the keyboard chair in SMV, tours some with Marcus Miller, and devotes his musical time to writing and producing.