While organizations and individuals around the globe focused on adapting to the pandemic, local artist Alyscia Cunningham directed her attention to breaking barriers. Her artistic journey took an unexpected turn as she pivoted from artist to accessibility advocate and champion in both her own creative practice and the greater cultural sector.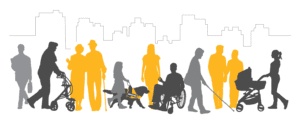 Alyscia is no stranger to challenging societal norms. The Montgomery County native published I Am More Than My Hair, a photography book of 138 portraits featuring the stories of 46 women with alopecia, and the ladies who cut their hair in solidarity with their loved ones in 2018. The book confronts the beauty standard myth that a woman's hair is her 'crown and glory,' changing the narrative to include and celebrate bald women. Alyscia produced a documentary of the same name one year later, bringing these stories to the silver screen. Continuing this work, she was inspired by a recent experience with The National Federation of the Blind to produce her first in-person multi-sensory exhibition, moving the needle forward even more for I Am More Than My Hair and coincidentally widening the scope of her work further than even she expected.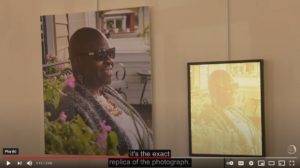 Spearheading an accessible exhibition, Alyscia incorporated audio descriptions of each woman's portrait, as well as lithophanes– raised 3-D relief prints– of the photographs. These adjustments allowed audiences with blindness and low vision to feel the texture and shape of the image as the audio describers gave verbal depictions of each portrait, augmenting her work into an equally accessible and enjoyable multi-sensory experience. How do you create lithophane images? Great question! The first step is finding a 3–D printer. Alyscia discovered re:3D, a social enterprise business striving to decimate barriers to 3-D printing, via an internet search. Next, she digitally transformed her photos into lithophanes using an online platform called the Lithophane Makers. Once finished, she sent the lithophane files to re:3D for printing and voila! The 3-D prints of her portraits were constructed. 
Implementing these new components was more challenging than Alyscia anticipated. She soon discovered the museum exhibiting her work was not experienced in mounting lithophanes and had not budgeted for an American Sign Language (ASL) interpreter and captioner for her virtual events. Thankfully, she obtained additional funding to cover the cost of accessibility from the Arts and Humanities Council of Montgomery County, iFundWomen of Color, American Express, the Maryland State Arts Council, and the Loreen Arbus Disability Awareness Grant. After more than a year of planning, fundraising, researching, training, and advocating, the project coalesced and opened as a groundbreaking, genuinely accessible local exhibition.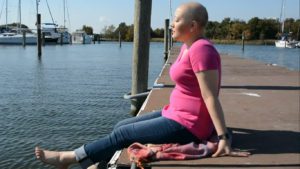 Believing her experience was not unique, but rather a systematic issue of the creative sector, Alyscia broadened her advocacy and developed an accessibility workshop for arts administrators entitled Making Art Accessible. The workshop challenged the cultural industry's inclusivity efforts and confronted the question, 'How do we make art accessible?' Art and accessibility experts discussed the importance of accessibility and ways to make exhibitions inclusive of visitors with disabilities through braille, ASL, closed captioning, audio descriptions, and 3-D printing. Workshop participants were welcoming and deeply appreciative of the ideas shared, topics discussed, and solutions offered. This was the first in-depth conversation about accessibility in the arts for several of them, and by the end of the panel everyone agreed it is time for museums and galleries to put these concepts into practice. 
Alyscia's belief that organizations must go beyond lip service to support artists and audiences with disabilities led her to make a courageous personal resolution. Any venue requesting her work must agree to make it accessible for those with low vision and hearing from here on out. Moving forward, she aspires to find a permanent home in an accessible venue for the I Am More Than My Hair exhibition. Alternatively, she is also willing to permanently mount her show in a museum or gallery inexperienced in accessibility work to help change their narrative to one of greater equity. Likewise, Alyscia desires to use the workshop as a platform for actionable change in the lives of artists, galleries, museums, and decision makers within the arts community. Her end goal? To charge venues to take brave actions and intentionally integrate accessibility as a mandatory part of their art experiences in the future.  
---
Listen in as Thomas Reid of Reid My Mind Radio interviews Alyscia about creating an accessible exhibition: https://bit.ly/3m7XERv. Reid My Mind Radio is a podcast raising awareness about accessibility, learn more.  
Check out Alyscia's website for more of her work! 
View the I Am More Than My Hair Film Trailer.  
See her Artist Profile on CultureSpotMC.com:  https://www.culturespotmc.com/artist/alyscia-cunningham/