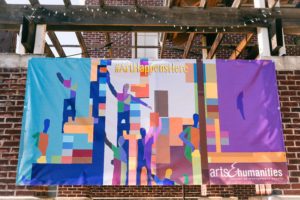 10 New Public Murals Celebrate Reopening the Arts! #ArtHappensHere
Eight local artists installed ten temporary murals across Montgomery County promoting the safe reopening of the local creative economy and cultural industry! Commissioned by the Arts and Humanities Council of Montgomery County (AHCMC) through its Public Arts Trust program, #ArtHappensHere features county-based artists: Robert Cohen, Felisa Federman, Sandra Perez-Ramos, Arlette Jassel, Dinah Myers-Schroeder, Liliane Blom, Martina Sestakova, and Marcie Wolf-Hubbard.  
Each original mural encourages residents and visitors to reengage with the creative sector and return to their favorite cultural events, venues, and pastimes. "Efforts to reconnect with audiences far and wide are vital" says Suzan Jenkins, CEO of the Arts and Humanities Council. "The arts and humanities are only now beginning to reopen after being shuttered since March 2020. The only way to ensure survival for our cultural community is for the public to safely participate in creative experiences throughout the county once again."
Artists incorporated images reflecting the wide diversity of Montgomery County's communities in their designs, welcoming back audiences and visitors from all backgrounds and walks of life. Artist Felisa Federman uses colorful hands and birds to represent the varied cultures of Montgomery County in her piece installed at both the Bender JCC and Glen Echo Park Partnership for Arts and Culture. Robert S. Cohen's mural–mounted at BlackRock Center for the Arts and Dance Exchange–portrays a positive image of inclusivity and interaction through an array of colorful abstract figures. Other artists, like Sandra Perez Ramos, seek to increase public participation by promoting the benefits of the creative sector. Her mural–located at Montgomery Parks–employs trees as a symbol of strength, connection, community, and cooperation. Each symbol represents and reminds people of the power of arts and culture to unify communities, improve well-being, strengthen economies, drive tourism and revenue for local businesses, spark creativity and innovation, and much more.
All the murals are located in cities across Montgomery County including Takoma Park, Silver Spring, Glen Echo, Bethesda, Sandy Spring, Olney, Poolesville, and Gaithersburg. More information on each of the artists, 10 murals, and their exact locations can be found on AHCMC's website, creativemoco.com.
Click here for press photos.