Artist Roster for Wall Projects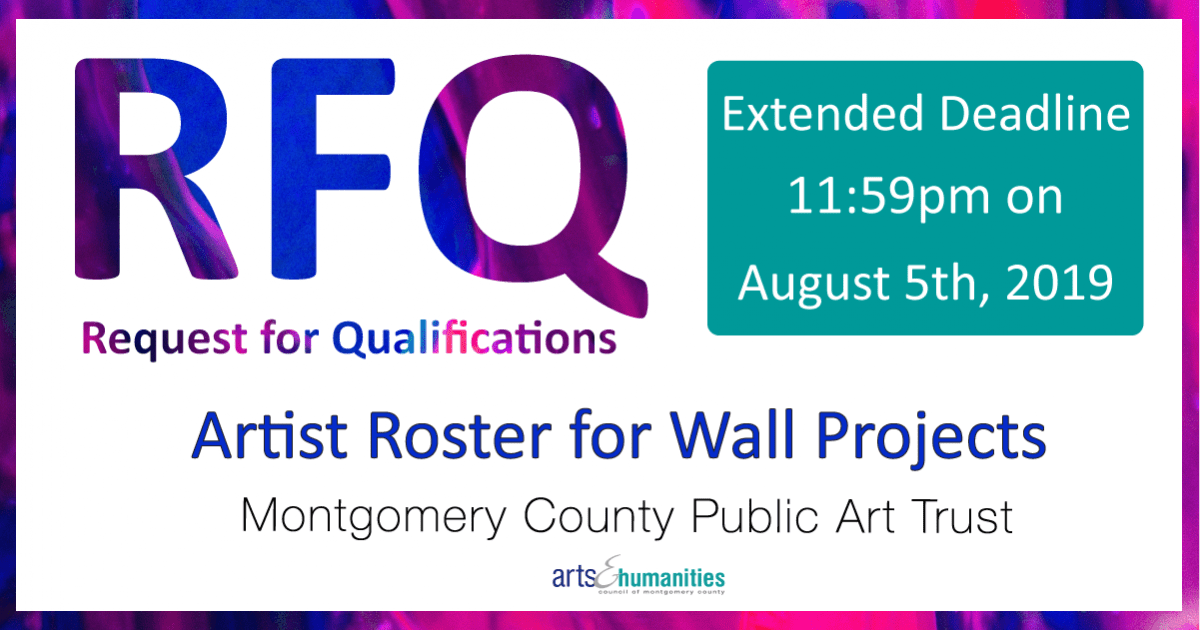 The Arts and Humanities Council of Montgomery County (AHCMC) is creating a roster of artists who will be pre-qualified to be considered for commissions on walls in the County. We are seeking muralists, as well as artists who work in mosaic, tile, low-relief and other installation media that are suitable for temporary or permanent installation on exterior walls.
Artists chosen for inclusion in the Artist Roster for Wall Projects (Roster) will be eligible to be considered for a variety of current and future opportunities being facilitated by AHCMC. Currently, AHCMC has one opportunity at Clarksburg Premium Outlets and artists should indicate their interest in that commission on the Application Questionnaire.
Inclusion in the Roster does not guarantee any artist a commission. Artists will be kept on the Roster for three years and AHCMC reserves the right to open the Roster again at any time.
AHCMC will also make the Roster available to arts organizations and consultants upon request, and reserves the right to use this Roster in conjunction with other selection approaches for future commissions. Artists included in the Roster may be contacted individually about specific artwork opportunities that arise, through any of the selection processes outlined in the Public Art Trust guidelines.
Join the Artist Roster for Wall Projects!
For full RFQ, eligibility requirements, and timelines click here.
Information Session Q&A: read here.
Clarksburg Premium Outlets

AHCMC is seeking artists to provide artworks for five walls at Clarksburg Premium Outlets!
Clarksburg Premium Outlets has engaged AHCMC to oversee the commission, creation and installation of five public artwork opportunities. The artworks will be created as murals, low reliefs or some other medium appropriate to the site. They should reflect the history and unique character of the Clarksburg community and promote The Clarksburg Premium Outlets as a destination for shopping, entertainment, and viewing art. It is understood that these artworks are long-term temporary installations, to last for a minimum of five years.
Read more about the Clarksburg Premium Outlets opportunity.
For full RFQ, eligibility requirements, and timelines click here.