The Arts and Humanities Council of Montgomery County (AHCMC) is pleased to announce Larisa Kachko as the 2020-2021 recipient of the Ida. F. Haimovicz Visual Arts Award! As the winner, Larisa will receive a $3,000 cash prize and showcase her original work in both a virtual and in-person solo exhibition at the Betty Mae Kramer Gallery. AHCMC chatted with her to learn more about her background, interest in visual art, and her vision for the future.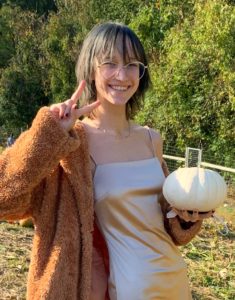 AHCMC: Tell us a little bit about yourself.
Larisa: Hello! I'm Larisa, a student artist from Maryland. I am a split schedule student with Sherwood High School and the Visual Arts Center at Albert Einstein High School. I'm very passionate about painting, and in my free time, I enjoy tending to windowsill plants. 
AHCMC: When did you begin to take an interest in visual arts? 
Larisa: I started seriously painting with oils in seventh grade, but I always remember being "one of the art kids" when I was younger. I loved putting the worlds I made in my head down on paper. I was fascinated by the way that anything around me could be drawn and interpreted through art materials. 
AHCMC: What inspires your work? 
Larisa: I love painting in a classical style, but exploration is a deeply ingrained aspect of my inspiration. I'm drawn to imperfections, slight changes in tone, the way that shadows fall, and colors. I enjoy transferring the textures around me onto canvas. I always look for new subjects in nature, my home, and people. 
AHCMC: How has the pandemic impacted your creative practice? 
Larisa: I definitely got to spend more time in the studio and on my explorations. Because my art is influenced by the outside world, the sudden changes brought about by the pandemic caused a shift in what materials I used and what I created. Many of my in-person interactions with other creative people were online. I had to change my artistic schedule to fit with this new setting. 
AHCMC: How will the Ida F. Haimovicz Visual Arts Award be helpful to you moving forward? 
Larisa: The Ida F. Haimovicz Award is an amazing opportunity for me to connect to the art world and get a glimpse of what goes into setting up a show. In the future, I want to be surrounded by art and this award is an integral step in pushing me towards a degree in the visual arts. 
AHCMC: What do you aspire to accomplish in five years? 
Larisa: I want to get a degree related to art in a four-year college and start my master's towards becoming a painting professor. I want to work with other students in the creative world and take some time to explore different techniques and approaches to my studies.