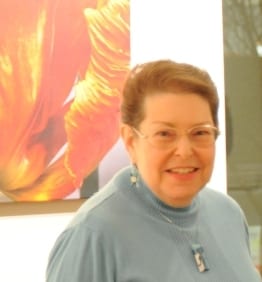 Since this time last year, AHCMC's Public Arts Trust (PAT) program has had the good fortune to be managed by Fran Abrams, artist, arts manager and MoCo native. During her tenure, which began the day after she retired from her position as AHCMC's Grants Director, Fran has been busy. Busy ensuring that public art on County-owned property is inspiring, dynamic and meaningful to the community in which it is located. Busy making sure that County departments know that public art is a vital enhancement to public spaces and that public art draws communities together and deters vandalism and other criminal behavior. Busy planning for a virtual and mobile phone tour of the County's public art collection. And, well… you get the picture, just really busy.
After such incredible work, AHCMC is sad to announce that Fran is stepping down as Public Art Coordinator effective July 1, 2011.  AHCMC is currently opening a search for a new Public Art Coordinator. If you are interested in this position, please click here.
"It has been my distinct pleasure to oversee the County's public art program, including maintenance, for the last twelve months," says Fran. "The Public Art Trust Steering Committee, chaired by Trish McManus, of the Montgomery County Parks Department, is a dedicated and thoughtful group of professionals that understand how vital public art can be in creating a sense of place for a community. And we are fortunate that the County budget includes a small allocation for ongoing art maintenance."
Fran leaves the public art program with a very clear road map of exciting new projects ahead including…
Works On Paper – Maybe you don't know, but Montgomery County owns a significant Works on Paper (WOP) collection (previously known as "Contemporary Art Collection"). AHCMC is seeking to contract an arts professional to create an accurate, current inventory of all artwork in WOP collection with documentation. The Collection includes such noteworthy artists as Jim Dine and Sam Gilliam. If you are interested in this position, please click here.
Now, this is really fun and hip. Cell Phone Virtual Tour of Public Art and Public Art Inventory: AHCMC will conduct a comprehensive inventory and documentation of the PAT collection in order to develop a web-based virtual tour of the collection as well as an interactive mobile tour experience powered by OnCell (click here for more info). The virtual tour will be a discreet website that includes a photo gallery of iconic public art works in Montgomery County and includes information about the artwork and artist. The OnCell public art tour will be accessible by most smart phones.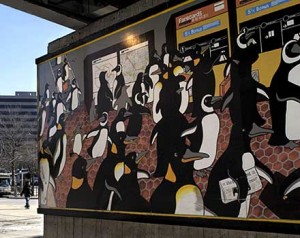 The re-installation of the "Penguin Rush Hour" mural at the Silver Spring Metro Station when the new Sarbanes Transit Center is complete is another big project.  The mural, originally intended to be temporary, was so beloved that funds were raised to preserve it. Recently, AHCMC was awarded a grant from the Maryland State Arts Council that matches the donations remaining in the "Pennies for Penguins" fund and will allow the refurbished mural to be re-installed. Way to go Fran and AHCMC!
Other new public art works are being installed around the County including: Darnestown Heritage Park, the Takoma Piney Branch Park, and Evans Parkway Park. Artist Cheryl Foster who will create the public art for the Darnestown project recently spoke to Darnestown Patch and said: "I intend to sculpt figures that will hopefully mesh into the history that is being offered on the interpretive panels. The sculptures will emerge from the stone and will appear stone-like."
The three projects mentioned above were designed with funds provided by the Public Art Trust and are being constructed and installed with the support of the Montgomery County Parks Department.
Fran will continue to manage Betty Mae Kramer Gallery and Music Room at the Silver Spring Civic Building, while devoting more time to her own art (www.franabrams.com). Fran is looking forward to showing her artwork at the BlackRock Center for the Arts in October 2011, and at the Glenview Mansion in July 2012.
Thank you, Fran, for not only ten years of service to AHCMC as the Grants Director, but for this commitment of a year to public art in Montgomery County.