As we announced in last week's newsletter, we're launching a public art mobile tour called Art on the Go! It'll give you an insider's perspective on selected pieces of public art around the county — all you'll have to do is whip out your phone, dial a number and listen! While not every single piece will be included, we're planning to launch the first batch later this year.
Creating the public art mobile tour takes a lot of legwork. Not only do we have to scout out and identify which pieces to include, but we also have to design signage, obtain permission to mount signage, make site visits and consult with facility managers on its placement and write and record scripts. Yikes.
Last week, Fran and I visited the Montgomery College Takoma Park/Silver Spring Performing Arts Center to take a look at the public art installation there: "Watermark" by David Hess. Here's a picture of the piece taken with the Instagram app: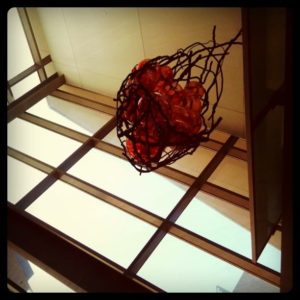 We spent some time exploring the different places the plaque could go: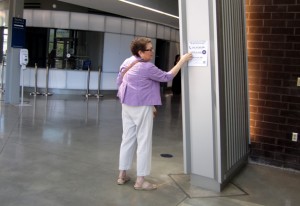 Thank you to Montgomery College for opening its doors to Art on the Go!, and thank you to OnCell Systems for supporting this tour. We'll blog periodically about our adventures in developing the tour — stay tuned!
What piece of public art in Montgomery County are you curious about?