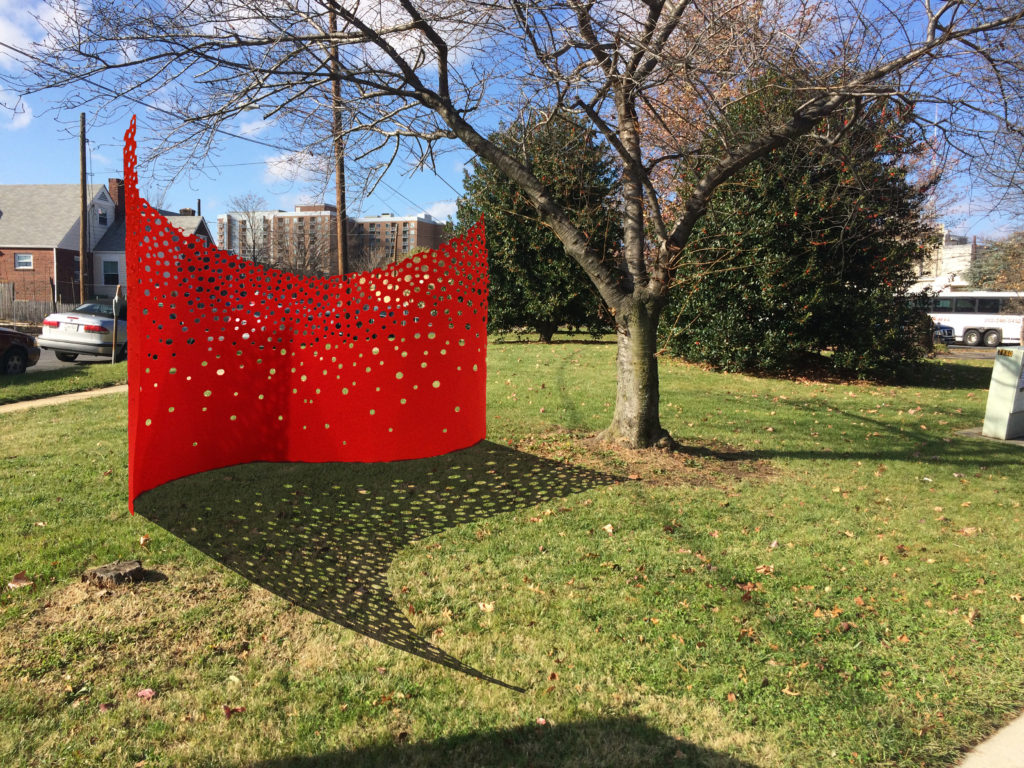 After issuing a Request for Design Qualifications to the public in October, The Public Arts Trust and the Arts & Humanities Council of Montgomery County are pleased to announce the selection of an outstanding public art proposal for the Silver Spring/Takoma Park community.
Red Orchard Wall by DC-based artist Michael Enn Sirvet is a contemporary outdoor sculpture whose design is inspired by the history of the Fenton Street Urban Park's as a former apple orchard.  The "curving wall" sculpture, approximately ten feet in height and twelve in length, is expected to be installed at the intersection of Fenton Street and Philadelphia Avenue in summer 2015.
The Arts and Humanities Council and The Public Art Trust issued Request for Design Qualifications to the public, inviting local artists to submit their design qualifications to be considered for creating the public artwork that would replace Criss Cross, by artist Albert Paley.
On December 4, three Semifinalists who successfully responded to the RFQ presented their proposals to the community and a panel of judges during a public hearing in Downtown Silver Spring.  Sirvet's proposal – with its references to the history of the site and the creative engagement that the sculpture creates between its environment, viewers, and landscape – was selected as the winning design.
Sirvet is a full-time artist whose professional experience includes a successful career as a structural engineer.  He has executed similar public art projects in several prominent public/private spaces, including the US Embassy in Malta, the US Embassy in Dubai, and Bowie State University.
Sirvet hopes Red Orchard Wall will reflect the growth and future of the Silver Spring/Takoma Park community:
"In choosing to tell the story of the long-gone apple orchard, we have decided to interpret the idea of an apple orchard in a contemporary way," he said. "We do this to compliment the new, vibrant and modern nature of downtown Silver Spring, with its many newly constructed buildings and public areas. Modern Silver Spring demands cutting-edge contemporary sculpture to match its contemporary growth."
AHCMC congratulates Sirvet on his innovative and engaging design, and thank all of the artists who submitted proposals.  For more information, read our official press release.