The public is invited to attend the presentation of proposals for the Fenton Street Urban Park Public Art Replacement Project on December 4, 2014 from 6:30pm – 8:30pm in the Betty Mae Kramer Gallery of the Silver Spring Civic Building, 1 Veterans Plaza, Silver Spring, Maryland, 20910.
Semifinalists will present their proposals to the Selection Committee and the public and they will answer questions at this public meeting. Semi finalists will have 20 minutes to present their proposal individually and discretely; semi finalists will not be presenting in front of each other.

This public art project is intended to replace Criss Cross, a sculpture that was removed from the public road right-of-way on Fenton Street. The project area for consideration includes road rights-of-ways along Fenton Street, Philadelphia Avenue and Burlington Avenue, as well as the existing Fenton Street Urban Park. There are plans to expand and completely redevelop this area in the future, so the artwork should not be considered a permanent feature to remain in place over the long term. The project will be a site-specific artwork that is reflective of the community and potentially incorporates a neighborhood or local theme. The artwork could be a site furnishing element that may be relocated or re-used when the Fenton Street Urban Park is redeveloped, or it could be a temporary project that would be removed from the site when future development occurs in the area.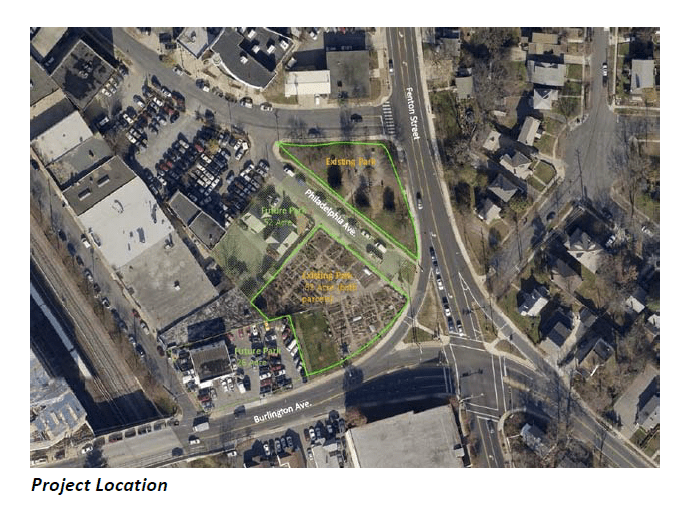 The Public Arts Trust (PAT) of Montgomery County, MD, administered by the Arts and Humanities Council of Montgomery County (AHCMC), invited artists to submit Statements of Qualifications to design, fabricate and install artwork on publicly-owned land between a residential neighborhood and an industrial district with auto repair shops in Silver Spring, Maryland in August, 2014. A Selection Committee comprised of members of the East Silver Spring Civic Association, Montgomery Parks, Montgomery College, the Public Arts Trust, The Montgomery County Departments of Recreation and Transportation was convened to review the submissions and three semifinalists were chosen.
For more information contact will.mcgowan@creativemoco.com or call 301-565-3805