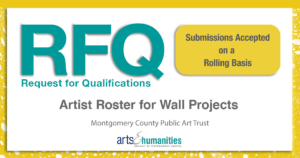 The Arts and Humanities Council of Montgomery County (AHCMC) is thrilled to announce that the Artist Roster for Wall Projects (Roster) has reopened for applications. Artists chosen for the roster will be eligible for consideration in a variety of future public art opportunities facilitated by AHCMC.
"We are living in a time when people are treasuring the limited opportunities they have outdoors due to the novel coronavirus" says CEO of the Arts and Humanities Council of Montgomery County, Suzan Jenkins. "The impact of seeing a beautiful and meaningful piece of public art while on a walk, bike ride or car ride is unquantifiable. Public art has become a source of joy, inspiration, and community as families, friends and strangers experience the work and bring people together virtually by sharing online in our current reality. AHCMC invites artists to apply for the Artist Roster for Wall Projects so that when we are once again able to create public works of art, AHCMC can connect them with opportunities in Montgomery County."
For the roster, AHCMC seeks muralists and artists residing in the Greater Washington area who work in mosaic, tile, low-relief and other installation media suitable for temporary or permanent installation on exterior walls. Montgomery County-based ALAANA Artists (African, Latinx, Asian, Arab, and Native American) are encouraged to apply. Once selected, artists will remain on the roster for three years. Inclusion on the roster does not guarantee a commission.
Applications are now being accepted on a rolling basis. Presently, the RFQ is only open for artists to apply for consideration on the roster, there are no current commissions available.
For more information, visit: https://www.creativemoco.com/experience-art-culture/public-art/artist-roster-for-wall-projects/