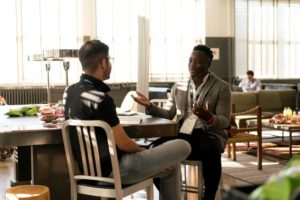 BIPOC Emerging Leaders Cohort Open for Applications!
A second cohort offering free professional leadership coaching for emerging BIPOC (Black, Indigenous, People of Color) arts managers is now available from the Arts and Humanities Council of Montgomery County (AHCMC) through a partnership with the International Coaching Federation (ICF) Metro DC Chapter! Joining fifteen members of the inaugural cohort launched in September 2021, the second BIPOC Emerging Leaders Coaching Cohort (BELCC) seeks to augment professional development for up-and-coming arts and humanities leaders of color in and around Montgomery County by inspiring them to maximize their personal goals and professional potential.
"As we continue to navigate through pandemic recovery, it is evident how vital support to leaders is these days", says Dana Pauley, Board Chair of the Arts and Humanities Council. "BELCC is an incredible investment to bolster the leadership of BIPOC arts managers in a critical time so that we can continue to shift the power balance in our community to be more reflective of the multicultural residents of Montgomery County."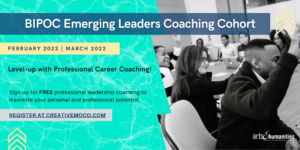 All BIPOC cultural administrators seeking to develop new skills and tools that will take their careers to the next level are encouraged to apply! The second cohort of up to 15 emerging leaders launches in February 2022. Cohort members may explore a variety of topics during one-on-one coaching sessions including improving communication skills, increasing self-confidence, strengthening relationship-building, adapting to organizational change, strategic career advancement and more. 
"At the International Coaching Foundation DC Metro Chapter (ICF Metro DC), we believe that time spent with a one-on-one coach is a valuable investment with results that can last a lifetime," said D. Marlene Thomas, ICF Metro DC Chapter President.  "AHCMC and ICF Metro DC share a common vision to support diversity and equity. Leadership coaching was once reserved for top executives; and one of the goals of the pro-bono initiative in our chapter is to have new leaders have access to the power of coaching. We are excited to partner with AHCMC as they enhance the careers of up-and-coming arts and humanities leaders of color." 
Applicants must be in the first five years of their career or the first five years of a new position to qualify. Preference will be given to Montgomery County residents and employees but all those living and working in the DMV region are welcome to apply. More information on the BIPOC Emerging Leaders Cohort can be found on our website, creativemoco.com.