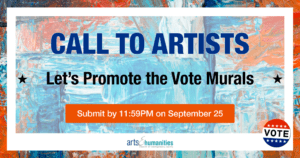 Innovative Public Art Projects Promote the Vote in Montgomery County
Can your art move the vote? The Arts and Humanities Council of Montgomery County (AHCMC) and the Montgomery County Public Arts Trust are elated to announce a Call for Artists encouraging residents to get out and vote in the 2020 election. Let's Promote The Vote seeks up to ten artists/designers to create temporary public art murals in traditionally marginalized/hard to count communities throughout Montgomery County.  
According to the Pew Research Center, approximately 56% of the U.S. voting-age population voted in the 2016 presidential election, putting the U.S. voter turnout behind most of its peer developed countries. "The November elections are quickly approaching" says Suzan Jenkins, CEO of the Arts and Humanities Council. "It is imperative that AHCMC plays an active role in removing barriers, galvanizing residents into action, and encouraging them to exercise their right to vote."
The murals can be created in any media that can temporarily be installed outdoors but will only include one word, VOTE. VOTE may be translated into any language representative of the community and may appear multiple times, however no other text can be used. No partisanship messaging or imagery is allowed.
"To reflect the incredible diversity of the county, our hope is that the word VOTE will appear in a myriad of languages and cultures representing the communities surrounding each mural's location" says Jenkins. "Whether in Spanish, Amharic, Somali, Mandarin, Cantonese, English, Farsi, etc… our goal is to reach those who do not intend to vote or may be on the fence about voting with a powerful creative message that resonates with them individually and throughout their communities."
The Call for Artists is open to professional artists/designers based in Montgomery County Maryland that are over the age of 18. Artists currently on AHCMC's Wall Artist Roster will be considered; artists/designers not on the roster may submit for consideration on the roster and the call. ALAANA (African, Latinx, Asian, Arab, Native American) artists/designers are highly encouraged to apply.
Submission deadline for Let's Promote The Vote is September 25, 2020 by 11:59 PM.
For more information and to view the call, visit https://www.creativemoco.com/experience-art-culture/public-art/promote-the-vote-mural-projects/
### 
About the Public Arts Trust 
The Public Arts Trust is Montgomery County's central program for managing, commissioning and conserving all public art on County-owned property, as well as supporting other public art projects throughout Montgomery County. Today, the County's public art collection includes 258 outdoor sculptures and murals as well as more than 500 works on paper. For more information visit https://www.creativemoco.com/experience-art-culture/public-art/ 
About the Arts and Humanities Council of Montgomery County  
Established in 1976, the Arts and Humanities Council of Montgomery County (AHCMC) is the county's designated local arts agency. Our vision is to provide leadership that sustains arts and humanities organizations, artists, and scholars and inspires participation in Montgomery County's rich cultural assets. For more information about AHCMC, visit 
www.creativemoco.com
 or connect with AHCMC on 
Facebook
 and 
Twitter
.