It is the pleasure of the Arts and Humanities Council of Montgomery County (AHCMC) to announce Mary Ma as the 2019-2020 recipient of the Ida. F. Haimovicz Visual Arts Award! As the winner, Mary Ma will showcase her original work in a virtual solo exhibition at the Betty Mae Kramer Gallery and receive a $3,000 cash prize. AHCMC chatted with Mary Ma to learn more about her background, interest in visual art, and her vision for the future.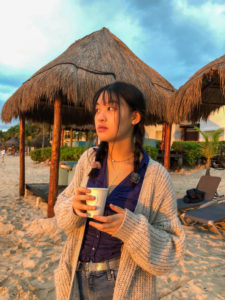 AHCMC: Tell us a little bit about yourself.
Mary Ma: I am a student at Richard Montgomery High School and I'm super interested in both art and journalism! I paint and make clothes in my free time. I love listening to history podcasts (Lore is one of my favorites), and reading terrible YA novels. 
AHCMC: When did you begin to take an interest in visual arts?
Mary Ma: My interest in visual arts started in elementary school. I have always loved doodling (still do), and since first grade, my notebook pages have always been covered with doodles of noses (one of my favorite things to draw) and an assortment of foods. I actually made a really cool comic book in elementary school. 
AHCMC: What inspires your work?
Mary Ma: My work is mostly inspired by my memories and dreams. I don't tend to use references when creating artwork, rather, I like to rely on my reinterpretation of events to paint. The concept of memory is really fascinating to me; the memory of people, events, places, smells, etc. can change over time and can change according to your current situation. 
AHCMC: How will the Ida. F. Haimovicz Visual Arts Student Award be helpful to you moving forward?
Mary Ma: The Ida F. Haimovicz Student Award will be helpful for me moving forward in terms of furthering my professional interest and experience in the arts, as well as helping take off some of that burden of college tuition. I'm interested in studying art history in the future and working in the museum field; planning my solo exhibition can give me tons of experience! 
AHCMC: What do you aspire to accomplish in five years?
Mary Ma: In five years, I aspire to be working in a museum, traveling the world with my family, and finally learning how to bake.