October is National Arts and Humanities Month and we're celebrating with an exciting initiative called Round Up for the Visual Arts! All month, when you shop at any of PLAZA Artist Materials store locations in Bethesda, Rockville, or Silver Spring you can donate the change from your purchase (or more) to AHCMC!  One hundred percent of the proceeds from this campaign will go to support our grants to individual artists. Last year, Round Up for the Visual Arts! helped Silver Spring-based printmaker Miriam Mörsel Nathan expand an incredible project visually documenting her family before World War II.  Below, Miriam discusses her work and shares how the funding has made a difference.
Miriam Mörsel Nathan: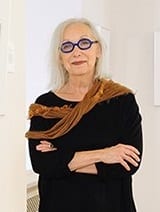 "My parents came from the Czech Republic. My father was in the Dominican Republic during the war years, my mother joined him after the war and I was born there. My parents spoke Czech and German at home, we ate fried plantains as well as goulash and dumplings. I am a blend of cultures and histories and I tend to think my work has that sensibility– of being a combination, a juxtaposition of many elements that ultimately (and hopefully) become connected and integrated.
We all have a need to make sense of the fragments of our history.  I do this work because I feel it is an imperative to reclaim individuals lost to war and to provide an acknowledgement of lives lived. I have continued to expand a particular body of work for a number of years, the source material being pre-WW II photographs of family members. By transforming the photographs into works on paper and offering narrative, I bring these individuals forward, say their names, give them voice.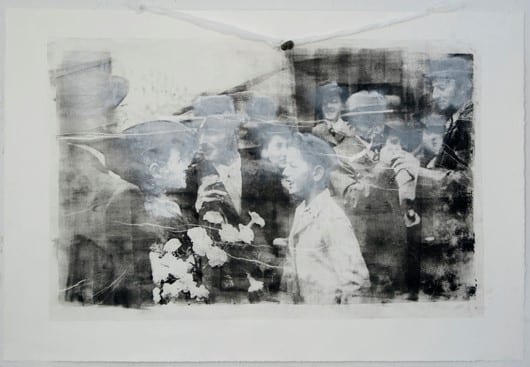 My process in creating this series has been predominantly through print making. In order to realize this next step of the project, I plan to work with Lily Press in Rockville. AHCMC and Plaza makes this possible through Round Up for the Visual Arts which will subvent studio and master printer fees as well as the cost of materials.

"It is extremely challenging to actualize a vision, to bring forward a project, without financial support. The award provides funding for me to continue to create a visual document of family members and their lives in Europe before and after World War II."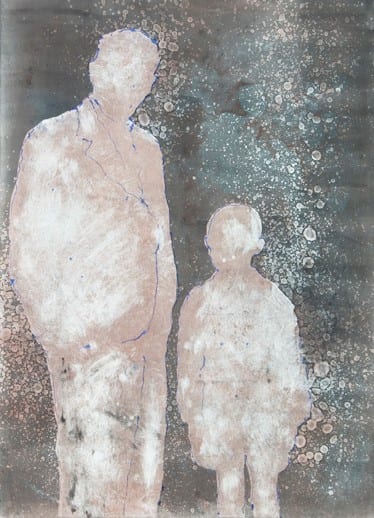 My vision for this next segment of work is to create a series of prints based on images of my first cousin, Hana, who was a child during the war. Although she did survive the war, for me she has become the bridge for life both before, during and after the war. The images I have of her include those as a child as well as a young woman. Working with her image expands the family archive and brings it closer to present day.
All images ©miriam mörsel nathan