Ricardo Loaiza, Founder of the After School Dance Fund, Inc., produces the Annual MCPS Latin Dance Competition at Strathmore. This event, now in its 15th year, has become the County's premier Hispanic grassroots community event.
In recognition of Ricardo's dedication to youth, community, and the preservation of Latin American musical and dance traditions, he will be awarded the 2014 County Executive's Community Award! Reserve your ticket today and join us on Monday, October 20 at 7 pm as we honor Ricardo and many others, at the 2014 Montgomery County Executive's Awards for Excellence in the Arts in Humanities.
Below, Ricardo  shares his story and reveals how dance helps bring people and communities together.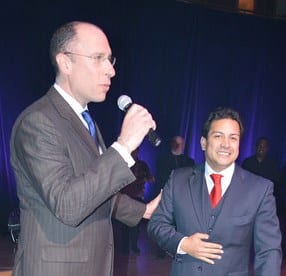 Ricardo Loaiza: I have been a resident of Montgomery County since October of 1997.  I moved to the US and specifically to this area in 1990 from Suriname, where I lived for 10 years with my mom, late-stepfather, sister and brother.  Salsa dancing and teaching has always been my passion, and it's actually how I met my lovely and patient wife Elba.
When I first moved to Montgomery County, I began volunteering at different high schools. I helped some students with their performance at a Multicultural night at Seneca Valley High School.  Since then, every year a small exciting event was held at a different school's auditorium, and slowly it became a large competition and place where Hispanic Latino families in Montgomery County could gather to support their kids exhibiting their culture through dance and healthy fun.
I started teaching Salsa in DC nightclubs and other venues in 1991 and continued from 1995 to 2007. When I met Elba, I asked her to join me in a Colombian Folkloric Group called "El Tairona". We then created the first Salsa Dance Group of the area and started to travel abroad to teach and perform.  From Japan to Aruba, and from Holland to Dubai, we kept pretty busy.  The Latin dance demand was there, and we even founded the region's first Latino owned dance studio in 1999, exactly where the Montgomery College Cultural Arts Center currently is, though it only lasted a year.
"We also had the privilege to accompany great Salsa legends of today and yesterday on stage, including International artists such as Celia Cruz, El Gran Combo de Puerto Rico, Victor Manuel, Tito Puente, Israel Lopez "Cachao" (the founder of Mambo), and Marc Anthony at the beginning of his career."
In 2010 we found ourselves at Strathmore talking to Monica Jeffries Hazangeles because the Latin dance competition kept growing, and there was no school auditorium big enough to host the competition.  Three weeks before our competition, we couldn't find a non-profit to underwrite the event, especially on such a short notice.
That is when my wife Elba suggested that we create one.  I started doing my homework, in three days we created The After School Dance Fund Inc.  My proudest moment was when the IRS determination letter came in the mail in April 2012, exactly 18 months after I filed.  I wasn't expecting to receive approval on the first shot of writing FORM 1023!  All of my learning experiences as part of a nonprofit have been memorable. It is quite a journey, but I have a great support system at home, an excellent Board, many other people in the Montgomery County community who are always willing to hold my hand and show me the way.
The connection between art and community building is what the After School Dance Fund stands for.  Our mission is to promote health, exercise, cultural diversity and unity through Latin dance education.
"The special thing about dance is that it is a healthy skill to have or acquire at any age.  It can help with social and emotional development. Regardless of where in the world you go, if you dance, it will help you communicate."
The annual Latin dance competition at Strathmore is by far the County's premier Hispanic grassroots community event, because it defines the different cultures within Hispanics, and non-Hispanics through Latin dancing. My most memorable moment at After School Dance Fund is always when the kids receive their medals at the end of the competition.  They all cry out of emotion, because it is over, and they feel so accomplished that they got to be on a world class stage to represent their school.