The AHCMC Montgomery Traditions program presented two of Montgomery County's outstanding traditional artists at the first ever Amnesty International Human Rights Art Festival on April 24th in Silver Spring.  Hindustani classical vocalist Samia Mahbub Ahmad and El Salvadoran singer and composer Lilo Gonzalez performed wonderful musical selections and framed their performances to address a range of issues relating to human rights and "unification in the midst of diversity."  The afternoon program, presented in McGinty's Public House to an audience of almost 90, was a picture of diversity including families and individuals from throughout Montgomery County and the District of Columbia.
Samia Mahbub Ahmad's performance transported the audience into a liminal state with melodious raags and lyrics that addressed spiritual unity.  During her performance Samia presented the background for each song, imparting the source of the poetry, spiritual message, and musical references including the raags (melodic modes) and tala (rhythmic meter) of each piece.  After her performance Samia and her accompanist Jay Parikh and Syud Amer Ahmed fielded a range of audience questions.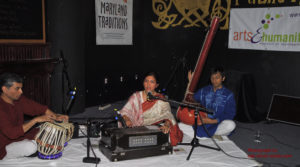 Lilo Gonzalez' spirited performance had the young folks dancing as he sang and spoke about the need to work for human rights and dignity for all.  It was clear from their response that some of the young folks knew Lilo's songs from his work in area schools.  Lilo spoke candidly about the immigrant experience and the need to foster better interpersonal and community relationships. Olivia Cadaval, Folklorist and Chair, Cultural Research and Education with the Smithsonian Center for Folklife and Cultural Heritage served as MC and interlocutor for Lilo's performance. Lilo's group included his son Lilo Gonzalez, Jr., Ramón Lopez, Ben Hall, José Lopez and Alfredo Mojica.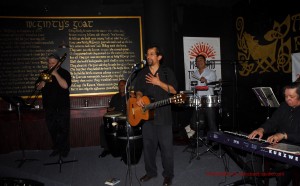 The event was a success due in large part to a group of wonderful and talented volunteers and in-kind contributions from the community.  I'll close this post with a few quotes from emails I received afterwards. "I enjoyed the cultural interaction and the events very much and feel that the Creative Arts Council in Montgomery County plays a big role in promoting multi-culturalism and communal harmony."  "Diverse in culture, ethnicity and age.  They loved it!  People were still talking and smiling about it afterward."
Photographs courtesy of oak-street-studio.com.