So this blog has been pretty quiet for the past couple of weeks, not because we have nothing to blog about but because we're just so darn busy!
Here's some of what we've been up to and what we're working on:
Advocacy Potluck Supper and County Council hearing: On Monday, April 5, we held an Advocacy Potluck Supper with Montgomery County Councilmembers. Over 100 representatives from the arts and humanities community showed up in green garb to ask the Council to Give the Green Light to the Arts and Humanities — thanks to all who came!
Three representatives from the arts and humanities community spoke at the public hearing: our CEO, Suzan Jenkins; artist Lauren Cook; and Strathmore artist-in-residence Christylez Bacon. All did an excellent job of representing the arts and humanities, and Council President Nancy Floreen even told Christylez after his testimony, "I think you just gave everyone in this room hope."
Marketing Managers Networking Breakfast: We had our monthly Marketing Managers Networking Breakfast on Friday, April 16 and were joined by Tonya R. Taylor of Rising Star Ideas, LLC. She spoke to us about leveraging Twitter for business success, and it was a really great session — look out for an upcoming workshop offering!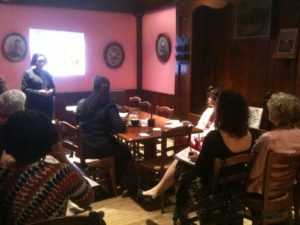 Legal Issues for Creative Entrepreneurs workshop series: Our Legal Issues for Creative Entrepreneurs workshop series is well underway! There are two sessions left: Negotiation Skills and Tax Strategies. Click here for details and registration.

Afternoon of Traditional World Music: Montgomery Traditions will be presenting a stage on Saturday, April 24 from 12:00 to 2:00 pm for the Amnesty International Human Rights Art Festival. This free program will feature Hindustani vocal music and El Salvadorian folk music from Samia Mahbub Ahmad and Lilo Gonzalez. Check out the event's listing on DOandGO.org for more information.
Ignite! Conference: This is the biggie! On Friday, June 4, we'll be presenting the Ignite! Conference on transforming business with creativity at the Universities at Shady Grove in Rockville, MD. Join keynote speaker Seth Kahan, pioneers in business creativity and 200 fellow entrepreneurs, business leaders and creatives for a day of innovation and fun! For more information, visit the website. We hope to see you there!
Miss us and having AHCMC withdrawals? Be sure you're following us on Twitter and liking us on Facebook!