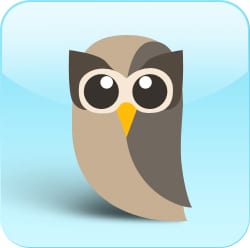 I hope everyone had a great Valentine's Day and President's Day weekend! In the spirit of Valentine's Day, I've decided to write a love letter to my preferred choice of Twitter client: HootSuite.
Dear HootSuite,
It's just been a couple of months, but already I see a difference in how I manage AHCMC's Twitter account. When I used to update through Twitter's website, I just wasn't happy. I was going to bit.ly (remember him?) for my URL-shortening needs, then copying and pasting them in Twitter's web client, then going back to bit.ly to track click-throughs. It was just not working for me.
But you! You billed yourself as "The Professional E-mail Client" and offered me stability, security and efficiency, and I can never thank you enough. Oh, what the heck — I'll come out and say it — here it goes:
HootSuite, I love you. Let me count the ways:
You let me shorten my URLs and track them. No more copying and pasting bit.ly URLs and loading bit.ly to check how many click-throughs each link got — you've got it all.
You let me schedule tweets. You know I'm busy. This might be counter-intuitive to the rapid fire nature of Twitter, but when I have four or five announcement tweets to send in a day, you let me write them and schedule them throughout the day.
You let me see my feed, mentions, direct messages and sent tweets in one screen. I have to scroll sideways, but it's all there. I've even added a box for our arts and humanities organizations list so I won't miss their tweets.
There are more reasons, but it's so early in our relationship, I shouldn't gush. Just know that you rock my socks.
Thanks, Hootsuite. See you tomorrow.
xoxo,
Megan
(Think I've fallen for the wrong Twitter client? Let me know what you think and comment below!)