Nabil Ghachem, a grants manager with an impressive background in theatre and arts education, recently joined our staff as our new Grants Program Officer.  Below, Nabil discusses his new  role at the Arts & Humanities Council of Montgomery County, his international career in grants management, and more.
---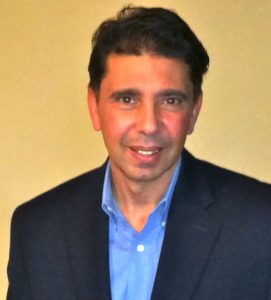 I was born and raised in Tunisia, a tiny country on the Mediterranean coast of North Africa lodged between Libya and Algeria. I grew up in a neighborhood where a mosque, a church and a synagogue were established only a few blocks from one another. This incredible diversity along with my family's multi-cultural lineage had a huge influence on what would become a bit of a globetrotting career.
After high school in Tunisia, I was accepted into university in Brussels, Belgium, where I earned an accounting degree and was able to visit almost all of Europe.
In Brussels, I worked at the Arab Cultural Center, writing operating grants, producing international music and theatre festivals, and locating city and state project funding and office space. There, I developed a passion for theatre and enrolled in the Brussels Theatre Academy training program.
I participated in several theater residencies with Yoshi Oida, the GITIS Moscow School of Theatre, and the NO Japanese Theatre and led an immigrant theater group to win the Brussels Capital Theatre Tournament with Dario Fo's Not to Pay.  Together, we developed arts education programs, short films, and documentaries that dealt with youth, education, and social issues. Following Brussels, I spent two fabulous years in New York  translating and directing Algerian author and poet, Hawa Djabali's, The Cry of Desire for the Lincoln Center Theatre Director's Lab, and Athos Fugard's, Master Harold, and The Boys.
My work in grants management began in Santa Cruz, CA where I managed the County Arts Council's Grants Program from 2002 until 2012. During my tenure, we completely re-structured the program by implementing new funding criteria, panel processes, and evaluation mechanisms, while initiating collaborations with the private sector and education institutions. We moved the grant making process online, expanded the technical assistance program, strengthened grantees' managerial capacities, increased access to funding opportunities, and facilitated numerous forums, including the Bay Area Funders' Forum.  I also had the privilege to launch the Santa Cruz County Poet Laureate program.
We were able to maintain a strong grants program thanks to the support from local city and county council members, local and regional foundations, state and federal support systems, and most of all thanks to a community who was involved in and advocated for the arts as a tool to enrich people's lives, emotionally, intellectually and economically.
I think we were able to instill a model for collaboration and mutual support that I already see in effect here. As I learn more about Montgomery County's arts and humanities landscape, I hope to have a chance to meet and work with the exceptional individuals, small, mid-size, and large organizations that contribute to advancing the creative economy in this region.
Nabil brings accounting know-how, extensive grantmaking experience, and a background as creative and cultural producer to this role.  We could not be more excited to welcome him to the Arts and Humanities Council of Montgomery County.  To learn more about Nabil, check out his bio and send him a note of welcome at Nabil.Ghachem@creativemoco.com!
---