The County Executive's Budget for FY16 is Positive for the Arts & Humanities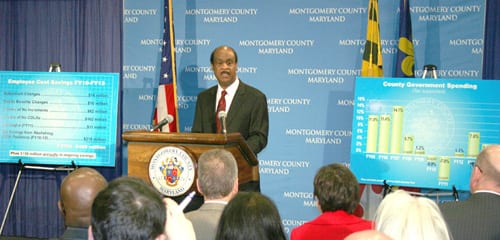 On Monday, March 16, County Executive Isiah Leggett announced his recommendations for Montgomery County's FY 16 Operating Budget, recommending a flat appropriation for the arts and humanities for FY16.
The County Executive proposed a total budget of $4,442,700 for the Arts and Humanities Council. This budget proposal includes $2,876,763 in funds for general operating support for arts and humanities organizations and $90,000 in funds for grants to support cultural activity in Wheaton.  Given low tax revenues and other constraints and challenges on the County's budget overall, we are pleased that the arts and humanities budget was not diminished.  We are also encouraged that the County Executive continues to support an additional $1,000,000 appropriation for capital improvement projects in our sector and $140,000 for public art.  We were able to do a lot of rebuilding in FY15 and this budget allows us to sustain that momentum.
Here's how this funding breaks down:
FY16 Arts and Humanities Council Proposed Appropriation – $4,442,700 which includes:
• $2,876,763 – Operating Support Grants
• $616,557  – Small & Midsize Organizations & Individual Artists & Scholars
• $90,000 – Wheaton Cultural Grants
• $250,050 – Advancement Grants
• $409,330 – AHCMC Administration
• $200,000 – Arts & Humanities Matching Fund
Additional Appropriations:
• $140,000 – FY16 Public Arts Trust
• $1,000,000 – FY16 Capital Improvement Grants
Consequently, a total of $5,582,700 is proposed for the FY16 arts and humanities sector appropriation.
Overall, this is exciting news and we thank County Executive Ike Leggett for strengthening the County's investment in arts and humanities organizations, artists and scholars through this "standstill budget".
As always, we must continue our advocacy efforts and encourage the County Council to adopt the budget County Executive Ike Leggett has recommended. Here's how I hope you can get involved:
Send a message of support to the County Executive, thanking him for this budget recommendation.  His email address and social media contacts can be found HERE
Also, plan to attend our Advocacy Potluck where you will be able to speak directly with the County Council to thank them for their support and hard work, as well as to encourage them to accept the County Executives budget recommendations.  We will be announcing the date of the potluck shortly; sign up HERE to receive our Advocacy Alerts to learn about this event and stay updated on our advocacy efforts.
As always, thank you for all you do to support the arts and humanities in Montgomery County.
Onward! Upward!