#ArtHappensHere – Mural Projects
The Arts and Humanities Council of Montgomery County (AHCMC) will commission up to 15 murals or temporary banners throughout Montgomery County to help promote the creative economy's safe reopening.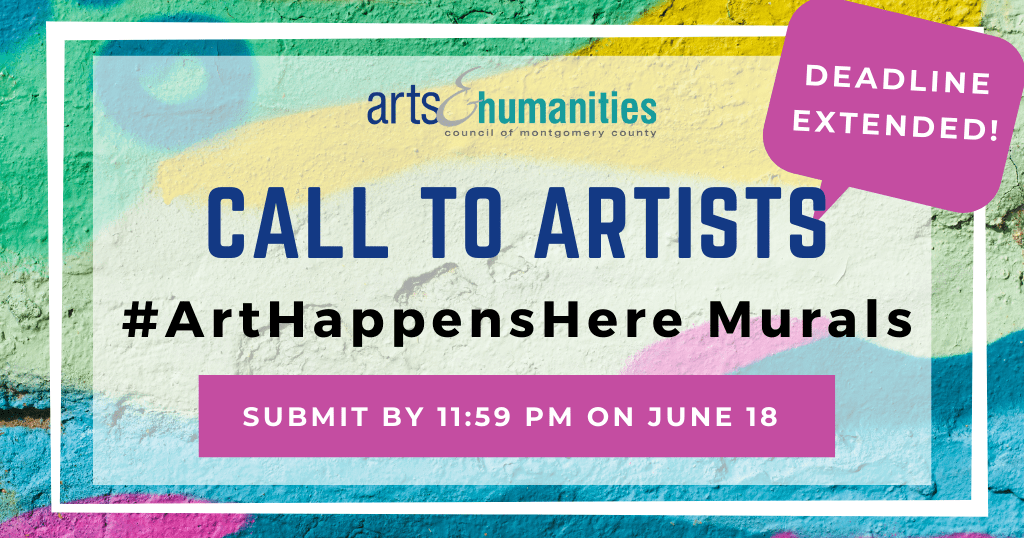 Concept 
Artists/designers will be commissioned and paid by AHCMC to design, create, and install temporary murals/banners  

The text "#ArtHappensHere" MUST be incorporated in the design (no other text is allowed)

Artists may work in any media they can temporarily install outdoors without causing damage to the mounted structure/wall

Selected artists will publicize their installation on social media with guidance from AHCMC staff

AHCMC will publicize selected installations on its website and social media platforms

Safe community involvement encouraged for concepts and installation

AHCMC will provide recommendations for mural/banner site selection

Projects must be completed by July 19, 2021

Temporary murals/banners must be:

Installed at approximately 100 square feet (10′ x 10′) 

In a highly public place 

At eye level 

Able to be removed or painted over without damaging the original structure/wall as mutually agreed by the artist, the venue and AHCMC
Artist Eligibility 
All professional visual artists over the age of 18 and based in Montgomery County, MD are eligible
Montgomery County-based artists currently admitted to the AHCMC Wall Artist Roster may submit up to (3) #ArtHappensHere designs
Artists based in Montgomery County that are not currently admitted to the AHCMC Wall Artist Roster are asked to submit their resume and (3) previous work samples in addition to a maximum of (3) #ArtHappensHere designs in order to be considered for both this call and admittance to the AHCMC Wall Artist Roster

The first 100 artists/designers submitting concept proposals will be paid a flat $50 stipend for any/all design concepts

AHCMC will choose designs from the submissions to display on our website

AHCMC reserves the right to post design submissions publicly 

Previous experience with murals/banners or public art not required
Personal liability insurance for applicants strongly encouraged, but is not required or provided by AHCMC
Artists capable of producing imagery that can be translated to a temporary mural may apply – painting, graphic design, drawing and illustration, and similar media are welcome

Artists/designers are required to install their own work or have their work professionally installed

AHCMC will not provide installation or fabrication assistance, but may be consulted
Commission
Selected artists will be paid a commission of $1,500 to include the artist fee, materials, supplies, transportation, fabrication, and one installation. 
The first 100 artists/designers submitting concept proposals will be paid a flat $50 stipend for any/all design concepts
Schedule 
June 7 – Call to Artists EXTENDED
June 18, 11:59PM – Submissions due 
Week of June 21 – Submissions reviewed 
Week of June 28 – Begin installations
July 19 – Completion of projects
Application
Applications should include all of the following:
1-3 proposed design(s)/renderings(s)/sketch(es)

Narrative/description for each concept (150 word limit each)

List of needed materials and installation plan/overview for each concept

Artist availability for installation between June 28th  and July 19th

Brief plan to safely involve the community in the design and/or installation (150 word limit each)

Virtual/online engagement accepted

Reminder – Applicants not currently admitted to the AHCMC Wall Artist Roster must also submit a resume and up to three work samples in addition to the application materials.
Equity & Inclusion
With the acknowledgement and understanding that access to resources has been historically limited for certain groups of people, AHCMC is committed to cultural equity within all funding activities and to serving communities that have been traditionally underrepresented in mainstream funding, discourse, leadership, and resource allocation including, but not limited to, Black, Indigenous, Native American, Latinx, Chicanx, Arab, MENASA (Middle Eastern, North African, South Asian), Asian, Pacific Islander, and other communities of color, socio-economically disadvantaged communities, differently abled individuals and/or people with disabilities, and Two-Spirit, Lesbian, Gay, Bisexual, Transgender, Queer, Intersex, and Asexual constituents. Artists in these communities are highly encouraged to apply.
Apply
Submit all clearly labeled materials via Drop Box using this link – Upload Applications Here
Please clearly label all files with the artist's full name for all application materials

Example – Jane Martinez Proposal 1.pdf
Example – Jerome Smith Resume and Work Samples.pdf

When possible, please consolidate all files into one pdf containing the design, narrative, availability and community involvement plan for each proposal clearly labeled with the artist's full name.

PDF, JPEG, MP4 and PNG files preferred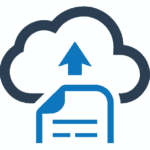 Please send all questions and inquiries to publicart@creativemoco.com