AHCMC is celebrating Community Service Week (October 16-22) by hosting this Volunteer Blog Salon, featuring stories of volunteers at arts and humanities organizations in Montgomery County. For more information about Community Service Week, click here.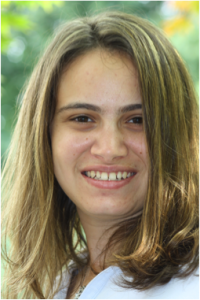 My name is Nadia Abouraya and I am 25 years old. I live in Silver Spring and volunteer once a week at Imagination Stage.
The gift shop at Imagination Stage is one place where I volunteer by putting price tag stickers on items or bagging new purchases. It can be a very noisy place but it's lots of fun. There can be lots of kids banging around or just two of us making noise while we straighten things up.
I am also an usher. I like handing out the programs and watching the kids react to the show. I love the shows so much myself. It's fun to see the kids clapping and enjoying themselves. They are so into it. Kids seem to be moving all parts of their bodies even while they are sitting in their seats for a show like Wind in the Willows. I know Aladdin's Luck is going to be great because I saw a model of the set before the show opened and it's amazing.
I also do office work like photocopying, setting up for activities, and working with different things at the office. Once I even ran the light board for a student show. That was the very first show I did at Imagination Stage and I've been volunteering there ever since. I have always like live plays. It's also good to meet new volunteers and the people you work with.
Outside Imagination Stage, I am driving and taking classes at Montgomery College. Mostly I like to see movies with my friends and family, read, or walk around my neighborhood. I also usher at Shakespeare Theater and I have a few other part-time jobs.