AHCMC is celebrating Community Service Week (October 16-22) by hosting this Volunteer Blog Salon, featuring stories of volunteers at arts and humanities organizations in Montgomery County. For more information about Community Service Week, click here.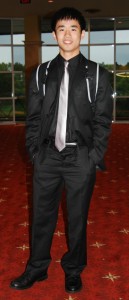 Sherman Leung, Violin
Grade 12, Montgomery Blair HS
During the summers that I volunteered at Maryland Classic Youth Orchestras, I acted as a student volunteer for MCYO's annual auditions at the end of August. Some of my responsibilities included running the front desk registration to check in newly arrived musicians. I also helped facilitate the audition process by calling down musicians and guiding them to their respective rooms.
I initially began volunteering at MCYO with the purpose of gaining some student service learning hours during an event that I was already involved with as an auditioner myself. However, I returned every year even after I had fulfilled my service hour requirements because it gave me the chance to support other musicians in their audition process. In fact, I was able to talk with and encourage every musician that I led down. As an auditioner, I appreciated the value of receiving support and encouragement from a fellow musician before a stressful event like an audition. I feel fortunate to have the impact that I did on the other musicians, especially the younger ones. During audition week, I've made a good number of friends with my fellow volunteers and even among the auditioners I led down – I was pleasantly surprised when I bumped into several middle school students that remembered me as the older volunteer that led them down during auditions.
I think the greatest impact that MCYO has had on me is the fostering of an ability to communicate and work with others – whether it might be an anxious parent, a nervous auditioner, a fellow volunteer, or one of the conductors. As my first long-term volunteer experience, MCYO has also instilled in me a sense of professionalism and responsibility. Though it was only a volunteer experience, MCYO has definitely helped me succeed in professional work environments as well. Through volunteering at MCYO I learned the value of having good communication skills and keeping a professional demeanor.
Outside of the weekly rehearsals that I attend as part of MCYO's philharmonic orchestra, I am an accomplished pianist of 11 years and I spend time preparing for local, state, and regional competitions every year. I play an active role in my church's youth group as an officer that plans and organizes events. I am also on the Worship team and I lead worship at Friday night fellowships and Sunday morning services. I am a 3-letter varsity swimmer on my school team, the president and founder of the Science National Honors Society at my school, and a student enrolled in the Science, Mathematics, and Computer Science Magnet program at Montgomery Blair High School. Some of my hobbies include playing basketball, going out with friends, and blues improvisation on the piano.