Maybe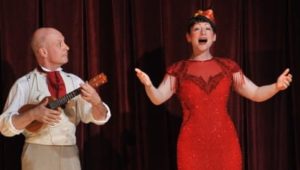 you've heard this one: "Say it's only a micro-gift, a tax-deductible micro-gift…"

Yep, that zippy little jingle for power2give.org performed by Vaudeville's Late Bloomers, Diz & Izzy Aster, is just the tip of a sizeable iceberg floating in the Arctic Sea of fundraising. It's the microdonation. The $5 or $25 gift that can't even keep a nonprofit in hand soap for a year. How important can that be?
Well, as a matter of a fact, QUITE important!
Factoid: In 2012, micro donations outpaced their macro counterparts. According to PayPal data, the average donation size globally decreased by $0.71 last year, while the number of global donations to nonprofits increased by 20 percent!
So what do Diz & Izzy have to do with it?
Those late bloomers are singing about the thousands of dollars power2give.org is raising for cool projects right here in Montgomery County. Projects like: a new floor for the Dance Exchange, the After School Dance Fund's "Dress to Impress" program, and Symphony of the Potomac's music programs for schools. Programs that are going to impact the quality of life for people living in Gaithersburg, Silver Spring, Rockville, Glen Echo and all over the county.
The Asters, created by Mark Jaster and Sabrina Mandel of Happenstance Theater, put on quite a show at the launch for power2give.org on June 12 at Round House Theater.  Special guests included Montgomery County's most passionate cultural supporters, Ike and Catherine Leggett, and representatives of power2give sponsors: Monument Bank, Ballard Spahr and Bethesda Magazine.

Created with Admarket's flickrSLiDR.
"We thank the Arts and Humanities Council of Montgomery County for all the contributions that enrich our community," said  Senior Vice President, Patrick Van Der Ham of Monument Bank, "and are pleased to offer our support."  Monument Bank is a lead sponsor for power2give and their gift has been matched to 13 of the 21 projects on the website.
So, nine days out where are we?  Just a smidgen under $15,000. Pretty impressive for a bunch of little microdonations, huh? The average gift in Montgomery County is $52. As Catherine Leggett said in her remarks at the opening, "You don't have to be a millionaire to be a patron of the arts and humanities. That's what makes power2give.org so special."
In fact, you can donate amounts as small as $5 to power2give. As Ryan Rilette said, "every little bit helps."  For funders who want to make a bigger philanthropic statement, you can become a matching sponsor at varying levels from $1,000 to $10,000.  For matching sponsors gifts under $1,000 make your donation to the Collective Impact Fund for the Arts & Humanities. That's what the Eric and Sue-Ann Siegel Family Foundation did and through the Impact Fund they've helped Create Arts Center and Friends of Library move closer their goals.

So, let's recap: microdonations, matching sponsors, big impact, Montgomery County. That sounds like a hit!