County Executive Isiah and Mrs. Leggett where the special guests of the Arts and Humanities Council of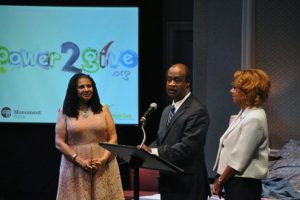 Montgomery at the official launch of power2give.org (one of the hottest new charitable giving sites for arts and culture in the country) in Montgomery County, June 12, 2013, at Round House Theatre in Bethesda. Since its inception in 2011, power2give.org has raised over $3.076M in support for the creative community, and received over 13,245 total donations.
Jump-starting the momentum in Montgomery County, the Leggetts gave $200 to Round House Theatre's "Act Now" project, sponsoring scholarships for children and youth from around the county to attend RHT summer camp.  It was an incredible moment.
AHCMC's power2give corporate matching sponsors were also there in full force showing their support. Patrick Van Der Ham, Senior Vice President of Monument Bank, Steve Hull, Publisher of Bethesda Magazine, and Erica Leatham, an attorney for Ballard Spahr and the chair of the AHCMC board all donated matching funds to power2give.org/MontgomeryCountyMD that provide an additional 50 cents towards each creative project for every dollar raised on power2give.org. Their generous support made the Leggett's first $200 gift instantly transform into $300 for Round House Theatre, demonstrating the full power in power2give.org.

"People often feel that if they can't make a really big donation, they shouldn't donate at all," said Ryan Rilette, Producing Artistic Director at Round House Theatre. Power2give capitalizes on the surge in mircrodonations that has swept the philanthropic community.  power2give let's donors know "that any little bit you can give will actually make a very clear difference in people's lives," Rilette commented.  power2give.org makes it possible for anyone to be a philanthropist and everyone to make a difference.
Since power2give.org went live in Montgomery County, it has raised over $10,000 in support for creative projects in the nonprofit arts and humanities community. "This is bigger than we imagined," said an enthusiastic Suzan Jenkins, CEO of the AHCMC. Jenkins was the inspiration behind introducing power2give to Montgomery County. "I'm an early adopter of technology and when I saw a demonstration of power2give.org at a conference two years ago, it was love at first sight. We were excited to receive a grant from the National Endowment of the Arts to bring power2give.org to Montgomery County. We're the first jurisdiction in the Washington region to participate in the power2give network."
Only one day after the launch, power2give.org is making a huge impact in our community.
Photos courtesy of BethesdaNow.