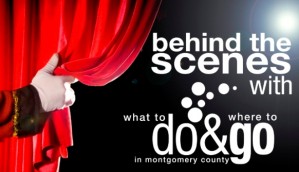 A nerdy florist falls in love with a beautiful woman. It sounds like the typical romantic comedy…except for the part when a man-eating plant from outer space falls from the sky and changes everything.
But such is life in the grubby downtown district in Little Shop of Horrors. You might have seen the 1986 movie with Rick Moranis. But did you know that movie was based on an Off-Broadway musical written by Howard Ashman and composed by Alan Menken, which was based on a film of the same name released in 1960, which was actually one of Jack Nicholson's first major motion pictures? (Yes, I hear your brains exploding.)
Since then, Little Shop of Horrors has seen a variety of reincarnations, from an animated cartoon series for kids to various revivals. Luckily, Seymour, Audrey and the charming yet dangerous Audrey II have come to Montgomery County and have rested on Olney Theatre Center's stage. Hear from Martin Platt, Olney Theatre Center's Artistic Director , on what he thinks the most interesting things about this production are:

As Martin mentioned, the Audrey II puppets in this production of Little Shop of Horrors are pretty spectacular. For a closer look, watch this interview with Renee Yancey, Little Shop of Horrors' Production Stage Manager:

And if you've ever wondered what goes on inside of Audrey II's head, you're in luck! We've scored you a backstage look with Eric Brooks, one of Little Shop's puppeteers:

Don't miss Little Shop of Horrors at Olney Theatre Center in Olney, MD, showing now through September 9. Ages 10+. For more information, click here.