Jennifer was one of our Public Art Survey Interns for Summer 2012. Read on to learn more about her experience surveying public art in Gaithersburg.
This internship experience made me notice and appreciate our community's public art more than ever before. Personally, I would have to say that my favorite public art piece from the Gaithersburg area would be the bronze metal columns from Watkins Mill High School. I remember when I walked into the school and immediately this piece of art caught my eye. Something about the bronze metal and the color scheme appealed to me. I thought it was very interesting how the artist combined science, mathematics, and culture into one abstract piece of art.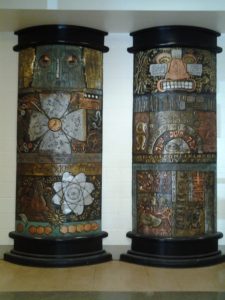 Another one of my favorite artworks was the Past, Present, and Future ceramic mural by Cheryl Foster at the Upper County Community Center. I thought it was amazing how Foster incorporated pieces of old toys in her mural. Although this piece of art has some damage, it has a meaningful place in our community. I hope this piece will be repaired and preserved so that others can enjoy it. [Editor's Note: Past, Present, and Future will be assessed by a public art conservator. Look out for a blog post about it!]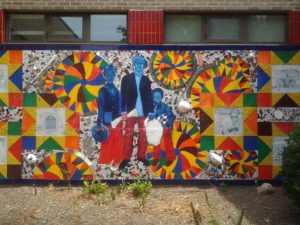 Also at Stone Mill Elementary School, the Flower Clock and seven-panel mosaic mural by Lilli Ann, Marvin, and Ben Rosenberg were one of my favorite pieces. I loved how the mural was very bright and colorful, depicting flowers and a farm-like scene.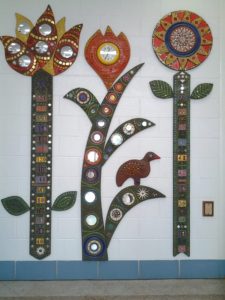 My experience at AHCMC has helped me understand the importance of conserving public art and how it adds character to our community.