At this year's County Executive's Awards ceremony, Mr. Ike Leggett will present the 2017 Lifetime Impact Award
to Phillip Brown for his work with Montgomery County Woodturners.
Reserve your ticket today and join us on November 6 at 7 pm as we honor Phillip and many others, at the 2017 Montgomery County Executive's Awards for Excellence in the Arts in Humanities
Read on and get to know a little more about Phillip.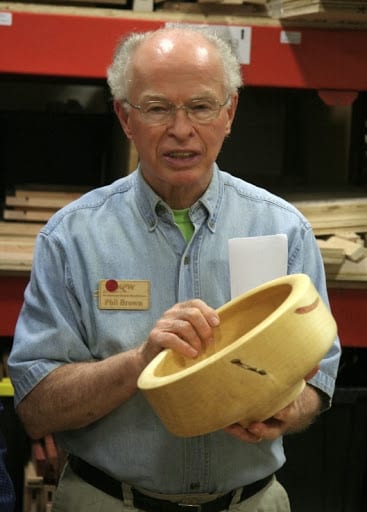 In what ways do you think your involvement in the Montgomery County arts and culture sector is impactful?
The formation of Montgomery County Woodturners (MCW) provides how-to-do-it training to amateurs, some of whom later create quality work accepted for exhibits and which sells in craft shows.  MCW has exhibited member work at eight county libraries, those with exhibit cases, for the last 10 years.  MCW has arranged multiple visits for members to major turned wood and craft collections in this area, including those of Fleur Bresler, Jerry and Deena Kaplan, Jane and Arthur Mason, and Judy and Jeff Bernstein.  I have shown my turned work in invited or juried exhibits at the Tower and Popcorn Galleries, Glen Echo Park; Kramer Gallery in Silver Spring; Blackrock Center for the Arts in Germantown: VisArts and Washington Arts (now Artists and Makers) in Rockville; and in Creative Crafts Council exhibitions at Strathmore Mansion, and serve as the CCC treasurer.  I helped hang pictures and shown in the Labor Day Art Shows at Glen Echo Park.
What do you love about the arts and culture sector in Montgomery County?
I like that there are art centers and galleries where I can see exhibitions in all media, theaters like Round House and Olney, and the Baltimore Symphony at the Strathmore Music Center.
What advice do you have for anyone looking to get involved in arts and culture?
I would recommend people identify the medium they are most interest in, volunteer at an organization, and attend events and exhibitions focusing on the medium.  If they want to make art, there are classes at VisArts, Glen Echo Park, other art centers, and other places.
What do you see on the horizon for arts and culture in local and global communities?
I hope county, State and Federal funding will continue to be available to support the arts in our community as well as nationally and internationally. However, I am too poorly informed and involved to make a meaningful statement on this topic.
What was your earliest "art spark" or impetus for an interest in the arts?
An important and lasting spark for me was seeing the Craft Multiples exhibition at the Smithsonian Renwick Gallery in 1975. This exhibition caught the attention of numerous people who became craft artists or collectors.