At this year's County Executive's Awards ceremony, Mr. Ike Leggett will present the 2017 Emerging Leader Award
to Cassie Meador for her work with Dance Exchange.
Reserve your ticket today and join us on November 6 at 7 pm as we honor Cassie and many others, at the 2017 Montgomery County Executive's Awards for Excellence in the Arts in Humanities
Read on and get to know a little more about Cassie.
In what ways do you think your involvement in the Montgomery County arts and culture sector is impactful?
My contributions within the arts and culture sector continue to be driven by the ways socially engaged artmaking deepen our capacities to hold our histories, to face the current conditions of our world, to look back and forward at the same time, to take in the joys and sorrow, and to activate our curiosity– returning us to the questions at the heart of our lives. I am thrilled for the opportunity to play a vital role in cultivating spaces for civic input and engagement with communities and sectors shaping our County through my work with Dance Exchange.
Dance Exchange was founded in 1976, and found a home in Montgomery County at our Takoma Park studios 20 years ago. At Dance Exchange, we continue to place intergenerational collaborations at the center of our work, valuing voices of all ages, backgrounds, and disciplines. We've worked with partners across our County, such as the City of Takoma Park Housing and Community Development on our multi-year project "New Hampshire Avenue: This is a Place to… and currently with Wheaton Regional Park through our Moving Field Guide Program, bringing the diverse experiences of our County together through performance and dialogue to further social, civic, and environmental engagement. On the horizon, I am excited for the ways we will be extending this work in partnership with the City of Takoma Park Public Works Department, Capital Area Food Bank, Rockville Human Rights Commission, and Arden Courts- a memory care center in Potomac.  Our work together is advancing the field of dance by supporting artists and audiences to think beyond the stage and towards the many ways dancemaking can have an impact on our world.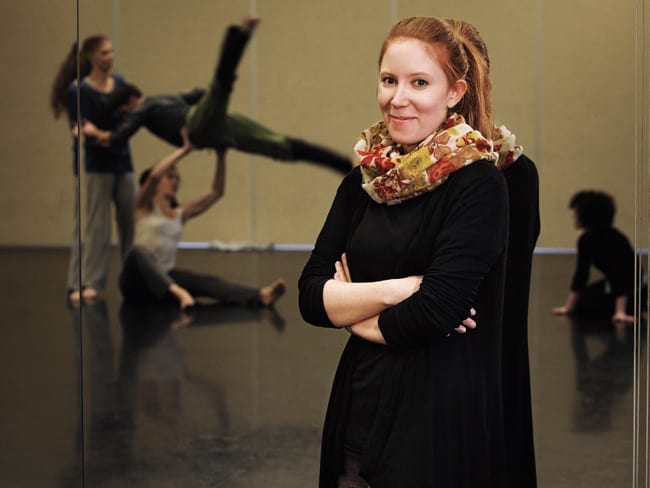 What do you love about the arts and culture sector in Montgomery County?
The arts are one of the most powerful tools we have to face our history and to see the current conditions of our country with a nuanced perspective, with empathy and imagination. They are vital in visioning and strengthening our shared world. Montgomery County, a place where arts and culture thrive, has offered an incredible home to grow and contribute to as a leader. Our County– especially the Arts and Humanities Council of Montgomery County and our County leaders– are unwavering champions of the arts, valuing the ways artists continue to orient our society towards justice, equity, and creative change in our communities. This support of the arts is a direct investment in creating ways of seeing and being in the world that have the power to change the environments we live and work in, and the encounters along the way.
What advice do you have for anyone looking to get involved in arts and culture?
I came to Dance Exchange fifteen years ago, drawn to the ways I saw the organization turning people towards the value dance can have in our lives, and pushing the boundaries of how this happens by asking– Who gets to dance? Where is the dance happening? What is the dancing about? Why does it matter? These four questions are at the heart of Dance Exchange's mission, and the ways we support people across diverse generations, communities, and sectors to connect with and expand their creative capacities. For those new or curious about deepening their relationship and work within arts and culture, this is such an important time for us to cultivate our creative capacities together as communities. The commitment to invest in these capacities, which are inherent in all of us, can begin at any age, in any place, and at any time- it's potential is always present.
What do you see on the horizon for arts and culture in local and global communities?
In an increasingly interconnected and interdependent world, I am interested in the ways arts and culture can create opportunities to actively participate in understanding the broader systems and shared places we are part of. This interest shapes the way I think about leadership. As I stepped into the role of Executive Artistic Director of Dance Exchange in 2016, I launched Organizing Artists for Change (OAC) — an initiative to support, connect, and grow the network of socially engaged artists, and to extend Dance Exchange's leadership in socially engaged practice.
From working with scientists to explore how performance can bridge the gap between scientific fact and public consciousness, to recent projects connecting audiences to the history and conditions of race, erasure, and resistance in Dallas, Richmond, and the DC region–I continue to believe in the power of artistic process and performance as a site for dialogue, a source of critical reflection, and a creative engine for thought and action. For me, making dances has never been about a single trajectory to the stage— it is a plunge into the unknown, a way to go new places and to return home, to reshape our lives and actions and to encourage our curiosity about who we are, where we come from and how we sustain our lives in a place. I see these questions and our relationship to place in both local and global communities driving artmaking of the present and future.
What was your earliest "art spark" or impetus for an interest in the arts?
I found a path to Dance Exchange by way of a childhood filled with passionate storytelling, a family of scientists continually seeding inquiry, and an environment that always encouraged the respect and discipline of the arts.  Beyond my life at home, my earliest creative sparks were tended to and cultivated through the incredible opportunity to attend Davidson Fine Arts Magnet School, 5th-12th grade, in Augusta, GA. Having the arts woven into my education within the public school system placed inquiry and artmaking at the center of my life– this continues to drive my dancemaking and action in the world today.