In the Spring of 2012, the Arts and Humanities Council launched an inventory of the County's public art collection. Many of the County's artworks require conservation–they need more than a simple hosing and cleaning.
To assist us in our effort to assess and treat the collection, Bethesda conservator Connie Stromberg examined several pieces, and with a team, treated the red granite disk fountain sculpture, Alba Rosa, or Red Morning. This simple granite piece by Seattle-based Joseph A. McDonnell provides a quiet place to enjoy shade and respite. Marking the entrance to the County garage on 1325 Fenwick Avenue, it is one of the first pieces in the collection to be commissioned as part of the County's art in architecture program.
Salt and dirt accretions, coupled with damages caused by the annual removal and reinstallation of the internal pump, marred and destabilized this piece. Ms. Stromberg treated both the cosmetic and structural components of the sculptural fountain.
Here is a closer look: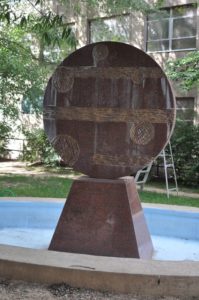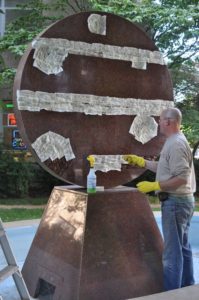 To remove salts, the conservators had to apply poultices soaked in an aqueous acidic cleaner as well as use single edged razors to lightly scrape the surface.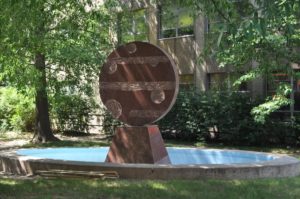 Stainless steel stops were attached to the pool floor ¾" from the lower edge of the base, to prevent excessive outward slippage of the panel.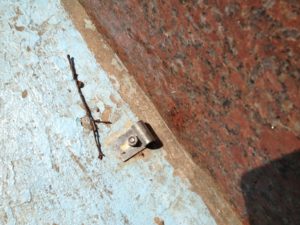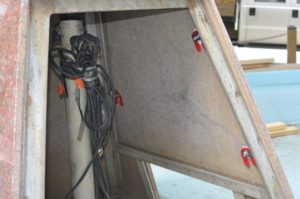 The access panel on the lower PR side was repaired using an epoxy material to fill losses and replace the deteriorated white material in the repaired cracks. The screen across the opening in the access panel was replaced with a stainless steel open mesh grid.
Now that the piece is conserved, the water filtration system needs to be tweaked so that mineral deposits and the harsh effects of chlorine are minimized.
AHCMC will be conserving numerous County artworks in the coming months. Let us know if artworks need attention in your neighborhood!