Nikki Brooks: Visual Artist – Educator – Activist
Interview by Lauren Cook, AHCMC Board Vice Chair
Nikki Brooks' website describes her as a "Visual Artist – Educator – Activist" and my recent interview with the multi-talented artist confirms these roles are fully intertwined.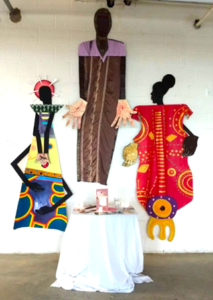 Nikki first realized her social-artistic practice as a student when she designed a poster featuring Malcolm X for the 'Art Student of the Month' competition at Courtland High School in Spotsylvania, Virginia. As one of the few black students in her class, this subject and the resulting visual statement resonated powerfully among the student body, and led to her receiving the school-wide arts award for her work. "A light went on in my head," she recounts, "and I began to understand that I could say something to the world with my art, that it could have an impact.  
Fast forward to the morning of our interview, and I'm sitting across from Nikki in an open-air coffee shop in Rockville discussing her artistic career. She received a BFA from Virginia Commonwealth University, an MFA from Maryland Institute College of Art, studied at Lorenzo Di Medici in Florence, Italy, and has several decades of experience nurturing K-8th grade student artists under her belt. Nikki continues her journey as an activist in her artistic practice. Her multi-media installation work reflects the intersections of her identity: black, lesbian, and woman, in addition to her experiences in black culture. It also explores questions about how "community" is defined and poses these questions to her viewers.
Her creative production always starts with journaling new ideas and concerns as they come to her. 2D painting and collage work are her go-to forms of visual expression in which she builds layer upon layer of meaning and media. For example, her Guardians series is a tribute to the females in her family who are vital spiritual forces for her, creating connections and ongoing communion while alive and long after their passing.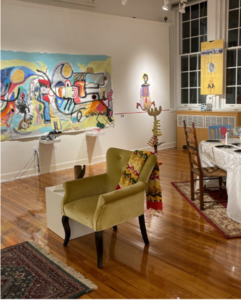 Among other artists, Nikki credits Fred Wilson's work and his famous installation "Mining the Museum" for helping to push her beyond 2D forms and into the 3D space, where she creates provocative sculptural forms by adding to and juxtaposing everyday artifacts in new symbolic ways. Maryland Hall's 2021 "Art of Activism" exhibition featured such works by Maryland-based black artists who use their artwork as a tool for activism. Nikki's pieces prompted viewers to consider the dualities of her lived experiences and reflect upon their own. One piece consisted of a table and chairs that seemed, from a distance, to invite viewers in for a comfortable meal. However, a closer look revealed the tablecloth and plates bore the names of unarmed black people killed by local authorities across forty-nine states. Nikki's art asks audiences of all backgrounds to stop and analyze our roles in normalizing black trauma in our daily lives. These experiences should never be forgotten but instead stimulate dialogue and action.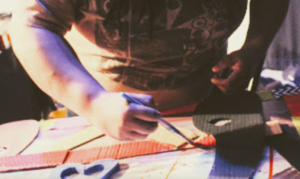 This artist knows the content of her work will always be on an evolving creative path. "And it comes straight from the table I am sitting at – where I am living every day," she says as she acknowledges her pieces and the legacy left by family and teachers – the "Guardians," as she puts it. Her need to personally respond to the current social and political moment through her art will always inspire Nikki's work. 
Nikki seems fearless in using all forms and materials in her craft and yet wants to keep pushing herself. "I've got a bunch of wood in the back of my car right now I'm about to do something else with," she chuckled, having just finished an embellished wooden throne as a gift for a treasured aunt.    
She is eager to exhibit her art in all types of spaces and venues, especially those encouraging interaction with her artwork. I felt her mind working as she surveyed the open café where we sat, with people quietly chatting at tables arrayed among the trees and plants. She gestured to it all, saying, "I can see how I could use a place just like this."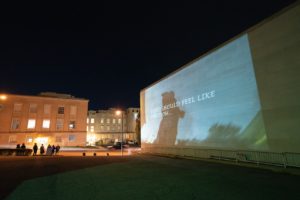 This assertion made me curious. What gives this confident artist pause? Does she ever feel she is taking a risk in her creative process? To this, she related her recent participation in last year's "Certain Parties or Parties Unknown", a temporary public art installation commissioned by the Arts and Humanities Council of Montgomery County. Nikki and five other artists created projection art to raise awareness, facilitate dialogue, and confront the history of lynching in Montgomery County. The project challenged the artists to work collaboratively in an art form less familiar to them called projection mapping. The end result depicted enlarged images of their artworks illuminating buildings in downtown Rockville for two nights in November, drawing crowds of viewers. Nikki stated this project stretched her thinking, and she learned a lot. She previously experimented with integrating sound, dance, and video into her work in 2020 with a mesmerizing short film titled "Mourning Discourse". Created in collaboration with Kay & Nya Harris of Umbiance Dance and sponsored by the Banneker-Douglass Museum, this film peels back layers of historical suppression and charges audiences to analyze their silent gaze watching black female bodies negotiate structural violence in America.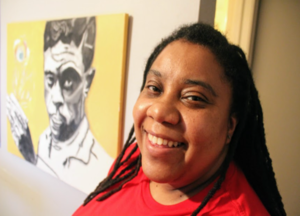 Before parting, I asked what advice she could offer fellow creatives involved with art, education, and activism. "Be an open vessel, and however your work evolves, don't second guess yourself," she replied. "And don't let people deter you from saying what you want to say."    
Well said, Nikki Brooks.  Thank you! 
---
Upcoming:  
The Gender Within: The Art of Identity
On view at Eaton DC (1201 K St NW) now – December 2022
Website: nicoleibrooks.com
Follow Nikki on Instagram: @nikkibrooksart