Jun Lee and the Art of Printmaking
Interview by Eleanor Choi, Chair of the Public Arts Trust
After attending opening night the County Collects III: Mother Nature exhibition, I took a moment to chat with Montgomery County based artist Jun Lee about her passion, process, and desire to pass on the deep history of printmaking to future generations. 
1. How do you describe the spirit or heart of your art?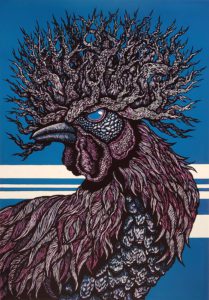 [My art] represents competition, fellowship, and friendships in life. In graduate school, I had a hard time finding my voice and was reminded of a childhood memory in Korea. When I was in 1st grade, there was a guy selling chicks out of a cardboard box. With great hope and excitement, I bought a chick, but it died the next day; —that was my first death experience. I kept going back and buying more chicks hoping they would grow up, but they kept dying. Graduate school had become that cardboard box, a harsh cold world, and I became the chick, determined to fight and become a rooster. This is how the rooster became one of the subjects for my prints.
The rooster symbolizes my dreams and desires. Behind the decorative façade of the rooster, are stories of hard work. Even when you achieve the goal and become a rooster, you must keep fighting. Life does not reflect the childhood stories we are told about hard work equaling success. Without that competition, I would not be here and that's how I found my friends, community, and family.
2. Describe your artistic journey. How has your work and practice evolved from the beginning? What media(s) do you most frequently work in and do you have an all-time favorite?
I transitioned from illustrations to printmaking. I was looking for senior elective courses in my undergrad studies and a friend suggested printmaking, because it was supposed to be laid back. (Jun laughed.) It was so different from any other art forms I used. With many other mediums, you can correct your mistakes in the process, but not in printmaking. Not having the flexibility to make corrections and changes was frustrating but when I pulled my first print, that was it. I knew I fell in love with printmaking.
In 2015 I resigned from my full-time teaching job to give it a shot as a full-time studio artist. I knew I had to give studio work my full attention, but I didn't know how to accomplish that. It started wearing on me and then I lost some colleagues in my art community. This was a wakeup call that life is short and you only get one shot. Even though I was confident about my choice, the first year was brutal. I was rejected by everything I applied for and proposed. I knew I could survive the uncertain hard times and stuck with the path thanks to encouragement and support from my family and friends. So, that's what I did and decided to do what I really wanted to do. I did not listen to other voices; I trusted my own voice.
My current primary medium is reduction woodcut, traditional hand carved and printed. It is intense but there is a drying time with each layer to let the ink dry and carve the next layer. That time gives you pause to figure out what to do next. Printmaking gives me that space and opportunity to reflect on my work and make it happen.
3. What themes or subjects appear most frequently in your work?
Animals from the stories of my childhood books -Rabbits, bears, pigs—we describe them as cuddly and non-threatening, but they can be ruthless in their natural instinct. Still roosters/chicks are my favorite subjects.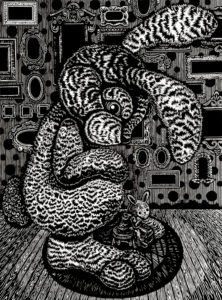 4. Is there anything else about your work, history, or practice that you would like to share with AHCMC?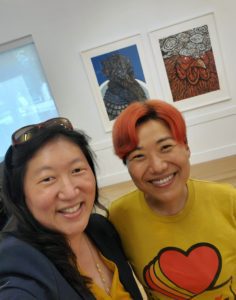 I want to keep spreading print love. Printmaking is physically intense, has material difficulties, and is unpredictable. But, when you do your final pull, the medium doesn't give you the same thing as a painting. This is a great medium. People thought printmaking would die out. I want to strengthen the printmaking community and pass on the tradition to the next generation. It brings me so much joy when young children are excited to learn about the printmaking process. As this medium spreads to the next generation, it becomes more mainstream. At heart, I am a print nerd!
---
Artist Website: http://junleeprints.com/
Follow Jun on Instagram! @junieleelee
See Jun's work in the County Collects III: Mother Nature exhibition currently on display in the Betty Mae Kramer Gallery and Music Room until July 2022.