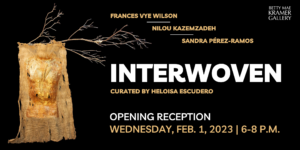 Frances Vye Wilson, "Symbiotic Systems III", Cambium fiber, metallic pigment, branch, feathers
Explore the tension, complexities, and traditions of fiber art in Montgomery County
The Arts and Humanities Council of Montgomery County (AHCMC) is delighted to celebrate the opening of  Interwoven with a public reception at the Betty Mae Kramer Gallery and Music Room on February 1, 2023, from 6:00 p.m. – 8:00 p.m. Interwoven features works by artists Frances Vye Wilson, Nilou Kazemzadeh and Sandra Pérez-Ramos. 
This exhibition, curated by Heloisa Escudero, explores how fiber art expresses tension, the human body, complex art concepts, and traditions. From the curator: Our lives are analogous to fiber's distinctive flexible properties. Society's entire existence is dependent on experiences that are interwoven and shared by everyone. History is written on fiber pages, and cultures use this material to keep their traditions alive. With the arrival of the New Year, we reflect on the past and make new projections as we weave our way into the future. In Interwoven, Frances Vye Wilso, Nilou Kazemzadeh and Sandra Pérez-Ramos share works revealing how they interact with this medium and utilize its properties to convey senses of vision and identity. 
"In a multicultural community like Montgomery County, traditions become intertwined" says Suzan Jenkins, CEO of the Arts and Humanities Council of Montgomery County. "We're thrilled to host an exhibition celebrating the dynamic relationships established when communities, cultures and fibers are woven together." 
Interwoven will be on view every Friday from February 1 – April 14, 2023. The opening reception is free and open to the public. Tickets can be reserved at: https://bmkginterwoven.eventbrite.com
For more information about the artists and exhibition click here.
** Masks are encouraged for all guests, regardless of vaccination status. Outside food and beverages are not permitted in the gallery with the exception of water. **