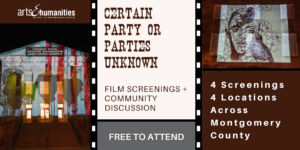 *Content Warning* 
Please be advised the artwork in Certain Party or Parties Unknown contains sensitive material that may awe, illuminate, challenge, unsettle, confound, provoke, and, at times, upset visitors. 
Four documentary film screenings across Montgomery County unveil the making of Certain Party or Parties Unknown (CPPU); a groundbreaking social justice art initiative commissioned by the Arts and Humanities Council of Montgomery County (AHCMC) in 2021 to raise awareness of three African American men who fell victim to racial terror lynchings in Montgomery County in the 1880s: Mr. John Diggs-Dorsey, Mr. George Peck, and Mr. Sidney Randolph.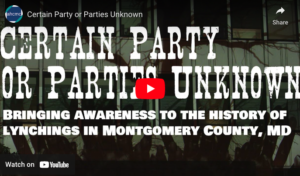 Certain Party or Parties Unknown Sizzle Produced by Raul Zahir De Leon
As a member of Montgomery County's Remembrance and Reconciliation Commission (Commission), AHCMC launched CPPU in support of Remembrance and Reconciliation Month to better understand our full history. The Certain Party or Parties Unknown documentary captures the process of creating the CPPU installation from inception to opening night. Interviews with the artists reveal why they participated in the project, their personal connection to this important topic, how they developed their pieces from start to finish, and much more. "It was critical to document the development of CPPU as it was truly a one-of-a-kind public art initiative tackling a difficult subject and acknowledging a horrific part of not only Montgomery County but America's history" says Suzan Jenkins, CEO of the Arts and Humanities Council of Montgomery County. "Our hope is the screenings will bring community members together in the spirit of remembrance and reconciliation to learn about the county's past and create a better, brighter and stronger future for all people." 
The first Certain Party or Parties Unknown film screening takes place at 6:00 p.m. on Friday, January 13th at the Betty Mae Kramer Gallery and Music Room as part of the artist talk for the Certain Party or Parties Unknown indoor gallery exhibition.
Three additional screenings will occur at the following locations:  
BlackRock Center for the Arts | Saturday, January 14th 
Odd Fellows Lodge in partnership with Sandy Spring Slave Museum | Saturday, January 21st 
The Arts Barn | Friday, February 3rd 
A roundtable discussion will follow each of the film screenings to further community dialogue and understanding.
Information on the 2021 CPPU installation, the artists, and more can be found on AHCMC's website, www.creativemoco.com.
** Masks are encouraged for all guests visiting the Betty Mae Kramer Gallery, regardless of vaccination status. Outside food and beverages are not permitted in the gallery with the exception of water. **