Classical Saxophonist Sierra Smith kick starts her career as an arts administrator by joining our staff as the new Programming and Operations Coordinator. We sat down with her to chat about her background in the arts, her role at the Arts and Humanities Council of Montgomery County, and more!
AHCMC: So, tell us about yourself.
Sierra: I am a native Washingtonian and thrilled to work with the AHCMC. I have a Bachelor of Arts in Music from Morgan State University as well as a certificate in Management of Successful Arts & Cultural Organization from the DeVos Institute of Arts Management. I've dabbled in many fields but am glad to start my career as an arts administrator.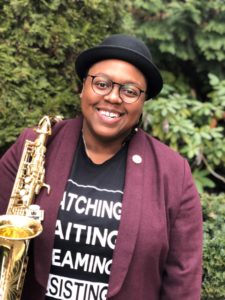 AHCMC: What led you to the arts field?
Sierra: When I finished undergrad, I was prepared to teach music or perform it and I realized that I didn't want to do either of those things. I enjoy doing the work that goes into programming whether it be a holiday concert or art exhibit and I wanted to be in a position that would allow me to support and promote the great work happening in the community.
AHCMC: What interested you to come work for the AHCMC?
Sierra: I wanted to start my career as an arts administrator somewhere that I could see myself being for years to come and fortunately I didn't have to look far. I was also attracted to the opportunity to work with AHCMC's CEO, Suzan Jenkins. Suzan (in my world) is the equivalent of a Steve Jobs or Jeff Bezos but for the arts and for her to not only be a woman, but a woman of color, made the AHCMC my top choice. In addition, as a musician and patron of the arts I wanted to make sure that the programming happening throughout the county mirrors the county's rich, cultural diversity.
AHCMC: Tell us a fun fact!
Sierra: I'm a collector! I have an expansive shoe collection, watch collection and t-shirt collection. I'm also REALLY into astrology.
AHCMC: What are you most looking forward to as the Programming & Operations Coordinator?
Sierra: I am looking forward to becoming more coherent with the arts in Montgomery County. I am also looking forward to sharing and learning about all the cultural events the county has to offer.