Dear Colleagues,
Last month, I had the pleasure of touring Montgomery County's Agricultural Reserve with Leadership Montgomery colleagues and Arts and Humanities Council of Montgomery County Board Member Dana Pauly. We had a blast! Learning about the dedication of farmers county-wide; the process of milking cows with robotic milking machines, and the commitment these farms have made to implementing sustainable practices in order to protect the environment, animal welfare, and public health was eye-opening and uplifting. In case you are unfamiliar, in 1980 Montgomery County Council created the Agricultural Reserve to protect the county's farmland and agriculture. This was one of the most significant land-use decisions in county history and now, the Agricultural Reserve encompasses 93,000 acres and retains more than 500 farms that contribute millions of dollars annually to the local economy. As we toured various locations I began to wonder, what more can the arts and humanities do to support our rural community and the county's environmental policies? How can we increase our efforts to bring attention to these important issues in a way that encourages behavioral changes toward a bright and healthy future for Montgomery County?
Throughout history, the arts and humanities have inspired and uplifted movements for change. From photography and storytelling to pop culture music and sitcoms, the creative sector has provided "emotionally resonate experiences that lead to measurable shifts in power". The Center for Artistic Activism speculates that this occurs because people will adjust their minds and behavior when they are personally moved by an emotionally powerful stimuli – and therein lies the power of art and culture to enact social change! When it comes to encouraging sustainable behavioral changes, creatives have been at the forefront for decades. Working to augment the messaging of pro-environmental education, policy, and research, while simultaneously helping society "grapple with the challenges to our values that environmental issues present in a way that education, policy, and research efforts cannot."
A wonderful example of this occurred in right here in Montgomery County. In April of this year, Bethesda based artist Keira Hart-Mendoza used funding received by the Arts and Humanities Council to design an environmental art exhibit showcasing how much trash is created in the county and its impact on nature at Brookside Gardens. During peak season when everything is bloom, visitors encountered the juxtaposition of this beautiful garden filled with lots of plastic waste. The feedback received was a mixed bag. Some were inspired to make changes while others were disgruntled by having to confront the harsh reality of the negative impact our actions have on the environment. Either way, Keira Hart-Mendoza achieved her goal of causing people to "stop and look".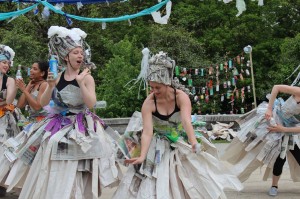 As luck would have it, AHCMC was approached around the time I took the agricultural tour with an opportunity to cultivate public artworks with an Environmental Artistic Focus – one of six focuses identified in our Public Art Roadmap. The goal of this focus is to discover key opportunities for projects that could create excitement and energy for public art, as well as bring attention to the urgency of environmental issues. Through a collaboration between AHCMC and the County's Department of Environmental Protection we have an opportunity to support the work of local artists creating temporary artworks that engage the community around the state of our environment, particularly as it relates to climate change, waste reduction and water quality. We look forward to working together to stimulate higher civic engagement, greater social cohesion, and to spark residents into action towards a more sustainable future.
Onward!