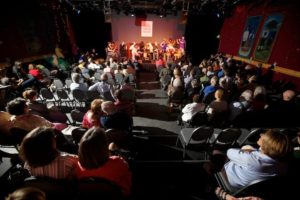 As a longtime resident of Montgomery County I am aware of the wealth of cultural diversity present in the area. I have enjoyed the food of cultures I know little about, listened to live music performances from countries I have never been to, and marveled at art I don't fully understand. But at this past Thursday's gathering and showcase of the Maryland Traditions network I was given a rare opportunity to not just experience these cultures vicariously, but to interact with the practitioners directly.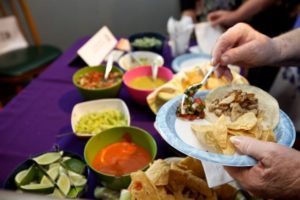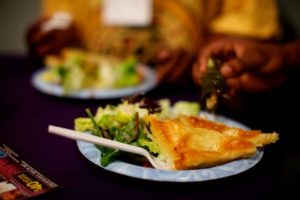 From the heart of Montgomery County to the edges of the state, ambassadors of Maryland's traditional and folk culture came to schmooze and amuse. Exchange abound and spirits high, attendees were treated to an opportunity to speak directly with tradition bearers in a congenial atmosphere over a multi-cultural feast, featuring traditional Maryland crabcakes and Pit Beef BBQ as well as additional delicacies offered by local producers and vendors, including fresh corn tortillas and tacos offered by Baltimore's Tortillaria Sinaloa. Discussions continued over a delicious dessert of locally produced ice cream by Blooms Broom Dairy and included dialogues about specific artistic disciplines, regional identity and community, and local economy.
The evening culminated in a showcase of the "Maryland Masters;" exceptional tradition bearers performing alongside apprentices that are working to keep their traditions alive. From Western traditions such as gospel performer Burton DeBusk and jazz pianist Lafayette Gilchrist to world traditions such as the beautiful mother-daughter pairing of Hindustani performers Samia and Irum Ahmad and the lively and complex rhythms by Persian Sufi percussionist Ali Analouei and the SAMA ensemble, the event captured the diverse offerings of the area. This included a wonderful representation of Montgomery County's vibrant Hispanic community, which featured the fiery Colombian vellenato accordion playing of Gustavo Nieto and his apprentice Edwin Lozana as well as the beautiful interlocking melodic patterns of Robert Giron and family's marimba playing.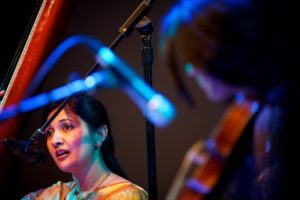 Though seemingly disparate, the evenings events were united by the deft hands of skilled practitioners, the refined sensibilities of seasoned cooks, and the curiosities of a public hungry for culture.
Photos taken by Shane Carpenter.