Marketing in today's global economy, social media-mania, info-obsessed takes a lot more than prayer. But what exactly does it require? What makes a good marketing strategy?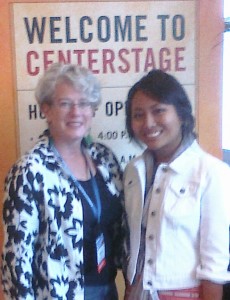 In the next few blog posts, your AHCMC Marketing Team, Shellie and Megan, will explore that question based on knowledge gained from our three-day experience at the National Arts Marketing Project Conference. We'll share golden nuggets from the sessions, presentations and discussions we attended. We'll share creative ideas we heard from the new friends we made and friends representing cultural organizations spanning the continent from Saskatoon to the Big Apple.
First, maybe you're wondering what is NAMP? The National Arts Marketing Project is a program of Americans for the Arts focusing on bolstering marketing skills for cultural organizations. NAMP produces an annual conference, hosts monthly webinars, organizes regional training programs, and provides on-site workshops on a range of arts marketing topics. Click over to artsmarketing.org for more information.
This year's conference was held in Louisville, KY, home to the Muhammad Ali Museum, the Louisville Slugger Museum, bourbon and horse racing. Some 500 marketing specialists from the US and Canada showed up for the conference, texting, tweeting and social networking like there was no tomorrow. In fact, our own Megan (@andmegansaid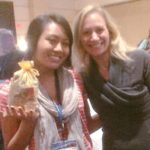 ) was recognized for her tweeting prowess at the end of the conference. Her award? A five-bottle bourbon sampler. Not bad!
This was one of the most exciting conferences I've been to in a while. The energy from this crowd could have powered all of downtown Lville—maybe it did. I loved the exchange of ideas whizzing around the conference hotel from dawn to ah…dawn. (These marketing people don't seem to need sleep.) It was like being immersed in a creative think tank for 72 hours. What a rush.
The conference theme, Winning Audiences, is especially poignant in this our third year of the recession. As cultural institutions around the country face tighter and tighter funding, we must turn to more creative and well-informed marketing strategies to engage with audiences that share our core values. Not just to get butts in seats, but to connect in deep and meaningful ways. (Though, no one would turn away a  butt who wants a seat.)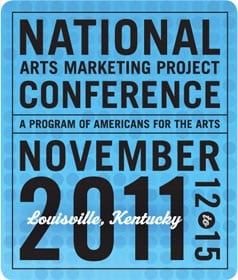 I was heartened by the depth of research organizations had undertaken and their willingness to share findings with this broader audience. While all these studies were specific to a particular geographic region or a discipline, I found incredible value in all of them and key information that I can use today in understanding the needs and motivations of our MoCo audiences.
So over the next week, keep your browser tuned to Blog.Creativemoco.com. Megan and I will post the most relevant lessons we learned as we seek an answer to: What makes a good marketing strategy.