Fran Abrams Creative Writing Award
The Fran Abrams Creative Writing Award is available to high school juniors enrolled in a public or non-public high school in Montgomery County who intend to pursue the study of, and/or career in, creative writing.
The award is presented to one recipient following a juried selection process that is based on the artistic merit of original work submitted and the applicant's commitment to the creative writing discipline, not financial need. The awardee receives an award of $3,000, a mentorship with a professional writer, and the opportunity for the awardee to read their own work during an award ceremony.
AHCMC recognizes Fran Abrams for her legacy to Montgomery County's cultural community. Click on the "About Fran Abrams" tab below to learn more her work as an arts and humanities patron.
The 2020-2021 application deadline has passed. Sign up to the Grants Newsletter to receive updates about 2021-2022 and other grant opportunities!
Back to Grants Homepage
Important Dates
Friday, April 16, 2021 - 11:59 pm
---
Questions?
Ana-Alicia Feng
Grants Program Assistant Manager
(301) 565-3805 ext. 21
Date + Deadlines
2020-2021 Important Dates
Guidelines Published – Monday, March 1, 2021

Application Deadline

– Friday, April 16, 2021 at 11:59 p.m.

Applicants are highly encouraged to contact AHCMC grants staff. All applications and relevant materials must be submitted online through AHCMC's grants portal, SurveyMonkey Apply (SM Apply).
Late applications and relevant materials will not be accepted.
Additional Dates Post-Application
Panel Review (virtual) – June 2021
Award Announcement – July 2021
Award Ceremony – Fall 2021, to be announced
Workshops + Webinars
Webinars
Friday, April 2, 2021 from 4:00 p.m. – 5:00 p.m.
This deadline has passed.
All AHCMC webinars will be hosted through the Zoom platform.
Webinars allow applicants to ask AHCMC grants staff specific questions about the guidelines, application, and online application portal.
At every webinar, AHCMC grants staff will review major eligibility requirements, present an overview of the category, and offer technical assistance for both the application process and the online application portal.
Applicants are encouraged to contact AHCMC with any questions they may have. Assistance is available via email, phone, or in-person by contacting Ana-Alicia Feng at AnaAlicia.Feng@creativemoco.com or (301) 565-3805 ext. 21.
Guidelines + Eligibility
Guidelines
---
Eligibility
An eligible applicant must meet all of the following criteria:
Resides in Montgomery County, MD;
Is able to provide AHCMC with a Social Security Number (SSN) or Individual Taxpayer Identification Number (ITIN) prior to receiving the award disbursement;
Is enrolled full-time during the fall of 2020 and spring of 2021 of their junior year in a public or non-public high school located in Montgomery County (home-schooled students are also eligible to apply); and
Will be graduating high school in the spring of 2022.
Required Application Materials:
A Completed Application Form
High School Transcript

Transcripts will be used by AHCMC staff to verify eligibility and confirm that the applicant is on track to graduate with a high school diploma in the spring of 2021. Transcripts will not be sent to the panel and will not be used as part of the evaluation process.

Home-School Notification Form (required for home-schooled students only)

All home-schooled applicants must submit a Home-School Notification Form signed by a parent or guardian who verifies that the student is home-schooled and that they comply with Maryland State Department of Education home-schooling regulations. Home-school notification forms will not be sent to the panel and will not be used as part of the evaluation process.

Work Sample(s)

Upload 1-10 samples of original work created within the past two years. Samples should include pieces that the applicant would feel comfortable reading out loud.
Application + Templates
2020-2021 Abrams Award Templates:
*Know that these are templates for your reference only – all applications and relevant materials must be submitted online through SM Apply.*
Award Recipients
2020 Award Recipient – Rachel Epstein-Shuman

Rachel, a junior at Albert Einstein High School, dedicates her free time to activism and writing in hopes of de-normalizing rape culture and promoting an end to systemic sexual and domestic violence. She has been an invited speaker at events organized by the Adolescent Peer Support League, Break the Cycle, and the D.C. Attorney General's Office, and is a regular speaker on panels about sexual harassment and assault, as well as the way in which D.C. Public School and Montgomery County Public School policies can improve the treatment of both victims and perpetrators. Rachel hopes to study English, English Education, or Journalism.
2018 Award Recipient – Amal Haddad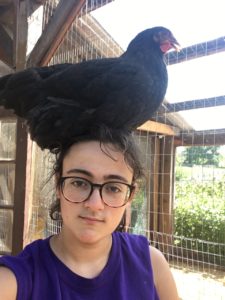 Amal Haddad is a haphazard poet, artist, and  wannabe novelist who hopes to one day finish writing her story set in the Upper Michigan Peninsula, a region she has an inexplicable fascination with and of which she has five maps on her wall, despite never having been there. Her favorite writers are Anne Carson and James Baldwin. Amal works at the Bethesda library and is currently a senior at Albert Einstein high school's Visual Arts Center. For her art series about the AIDS epidemic and its ramifications today, Amal was named a 2018 YoungArts Silver Finalist and a semi-finalist for Presidential Scholar in the Arts. She was also a 2017 Fitzgerald Scholar, and received regional Silver Keys for Short Story and Portfolio from Scholastics. In the fall, she will attend Swarthmore College and plans to study English.
2017 Award Recipient – Asia Pumphrey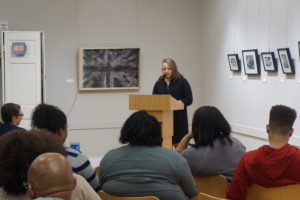 Asia Pumphrey is a senior at Gaithersburg High School who enjoys writing and photography. During her high school career Asia has participated in the  the Multicultural Club, Key Club, Stage Crew, Food for Thought Club, NAACP, and the Newspaper Club. Asia is currently an Editor of her the school newspaper and has had 5 of my poems published in an anthology called a celebration OF POETS from 2015 to 2017. Asia is greatly supported by her parents and friends, stating "they push me to strive for my goals and achieve above and beyond my expectations."
Artistic Statement
In my work emotions of fear, sadness, acceptance, and sometimes love are expressed by way of imagery and hyperbole. The majority of my poems are also free verse with unrhymed lines to convey a sense of confused or frenzied thinking because poetry is the only way I know how to feel and express my feelings in a healthy way. The art of writing is very cathartic for me and gives me a voice. That, being said, my poetry may blur boundaries between genres because of the fact that all of my work is the unfiltered me and I can not be defined as only one thing.
2016 Award Recipient – Emily Zhang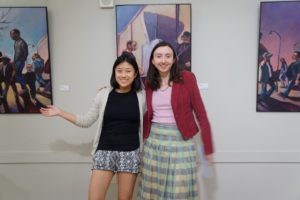 Emily Zhang is a senior at Richard Montgomery High School. She loves telling bits of stories through poetry, and hopes to one day work in arts advocacy where she can teach students the importance of creative expression. She is currently Editor in Chief of the The Moco Student, Montgomery County's student newspaper, as well as News Editor of The Tide, Richard Montgomery's High School newspaper. In addition, Emily founded Sidereal Journal, an online publication that is dedicated to showcasing the works of writers and artists who create with the purpose of shifting the perspective of the public. Emily has earned a Scholastic Art & Writing Award, and her work has been recognized by Feminist Studies, The Poetry Society of England, The Sierra Nevada Review, Princeton University, and National Poetry Quarterly, as well as many other publications.
Artistic Statement
"Writing, originally, was a documentation of my life—I've kept journals since the fourth grade—but whenever I found myself uprooted into a new environment, I wrote to address this strange new sense of loneliness.Poetry is my connection of people and people, author and reader, ideas that never seemed to mesh well until they did. I love this width of possibility, this restlessness of words. I love that it inspires equal parts adventure and introspection and empathy. When China handed me a fistful of loneliness and mistranslation, I gave it line breaks on café napkins, candy wrappers, grocery store receipts. I wrote when the neighborhood bookstore stopped carrying English titles. I wrote when my grandpa passed away and left all his playing cards on the table and orange juice in the fridge."
2015 Award Recipient – Logan Dreher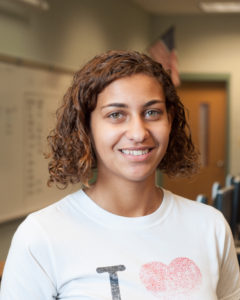 Logan Dreher is a senior at Blake High School. An active member of organizations like the National Honors Society, Black Student Union, and Knitting Club, she expresses her love for writing through her leadership roles as editor-in-chief of the nationally recognized school newspaper, 'The Blake Beat,' and as president of the Creative Writing Club. She has given back to her community by obtaining over 250 community service hours. In the past, Logan has been featured in the Bethesda Magazine, and was a recipient of the National Society of Arts and Literature Award for Excellence. She owes her success to her family, friends, and writing mentor Amy Branson.
Artistic Statement
I don't think I've ever considered why I was interested in writing before. It is something as intrinsically tied to my being as my hair or eye color. In that vein, there was never one moment I realized I wanted to write. The heavens never opened up, and God never strode out and declared, "You shall write."
Most of my life seemed impermanent and abstract; two of my best friends moved away when I was a child; my father moved to California, and then to Florida, after my parents divorced; and I felt race-less, community-less as a white looking biracial girl in an African American household. Writing made my life feel concrete. If I could just capture a moment in words, it was real and it was permanent.
2014 Award Recipient – Yiyi "Jessica" Li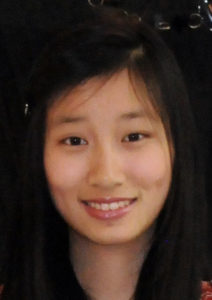 Yiyi "Jessica" Li immigrated to America from China at the age of nine and will graduate from Richard Montgomery High School in June of 2014. Her works have been featured on Teen-Ink, Stage-of-life, and the New York Times Education Blog. She has also been recognized in nation-wide contests including the River of Words International Poetry Contest, National Creative Communications Essay Contest, and the Scholastic Writing Awards, as well as in local competitions such as the Bethesda Magazine Essay Contest, MCCPTA Reflections Contest, and One World Education Reflections Program. Jessica will attend Princeton University in the fall of 2014 and hopes to become a news reporter/commentator.
Artistic Statement
Illegal immigrant. Teenage mother. Housewife of a Wall Street billionaire. Do you think crime? Burden? Extravagance and perpetual festivity? After coming to America, my family moved from a grease-smelling garage-sized tenement sheltering fourteen people to a house of our own on a scenic street. The stereotypes I had been associated with in the eyes of my counterparts had changed, yet, there was always a monochromatic label that they slapped onto me. That's what got me to pick up my pen. I write to amplify the non-mainstream voices, for I've witnessed the power of words to peacefully erase prejudices and open our eyes to what we once refused to see.
All past recipients
Sara Medwin (2021)
Rachel Epstein-Schuman (2020)
Amal Haddad (2018)
Asia Pumphrey (2017)
Emily Zhang (2016)
Logan Dreher (2015)
Yiyi "Jessica" Li (2014)
Sydney Axelrod (2013)
About Fran Abrams
The Fran Abrams Creative Writing Award was established in July 2010 to celebrate a high school student who excels in creative writing, as well as Fran Abrams' contributions to Montgomery County's cultural community. Former AHCMC Grants Director and Interim Public Art Trust Director, Abrams announced her retirement from AHCMC effective July 2010. During her nearly 10 years at AHCMC, Abrams oversaw the creation of Montgomery County's first Cultural Plan, AHCMC's 2007 Strategic Plan, and served as the agency's Interim Director. Abrams retired after 41 years of service to Montgomery County, including 10 years with the County Government and more than 20 years in non-profit organizations focused on early childhood education, arts, and the environment.
AHCMC CEO Suzan Jenkins notes, "Fran's stalwart creativity and vision are a testament to the leadership and dedication she brought to the Arts & Humanities Council. We are proud to continue her legacy for years to come by inspiring students with the Fran Abrams Creative Writing Award."
Contribute to the fund
Please contact AHCMC Deputy Director, Joe Frandoni, at Joe.Frandoni@creativemoco.com.