AHCMC is celebrating Community Service Week (October 16-22) by hosting this Volunteer Blog Salon, featuring stories of volunteers at arts and humanities organizations in Montgomery County. For more information about Community Service Week, click here.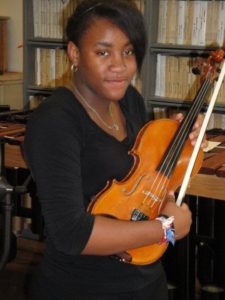 Kristin Jones, Violin
Grade 12, St. John's College HS
I am a violin member of the Philharmonic Orchestra of Maryland Classic Youth Orchestras. This is my second year with Philharmonic and I have also been a member of the Young Artists, Symphony, and Chamber Orchestras. Outside my time at MCYO, I perform as concertmaster of my high school orchestra, play violin and viola in summer orchestra programs, and I love to study mathematics. Being part of MCYO is an amazing experience for every member. Performing with so many musicians makes you want to work harder and harder to reach perfection at each rehearsal and every performance.
Well, you go back to the beginning, that nerve-racking, teeth chattering, palm sweaty time for all of us is: Audition Week. Volunteering during Audition Week is my way of giving back by being there for all the newest young dreamers and letting them know that there best is all they have to give. One of the best experiences is watching the elation on the face of the auditioning musicians when they've nailed a masterful performance. Outside of MCYO, I am a volunteer math tutor at Guide Youth Services, where I empower young students to give their best in mathematics.