We're all about celebrating regional artists and the talent we have in Montgomery County, and that's why we're particularly excited about this year's rebirth of the Mid-Atlantic Jazz Festival. Over the next week, we'll be posting a few interviews with musicians and artists who will be performing at the Festival. Here's our first interview with Paul Carr, Music Director of the Jazz Academy of Music, who is also producing the MAJF.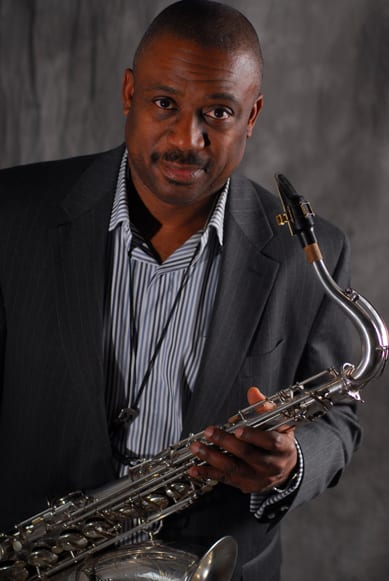 What initially attracted you to Jazz music?
I think what initially attached me to jazz was the sound of the instruments playing together. And even at that young age, I could hear the skill and artistry it took play to play jazz.
When was the moment you realized you had a passion and desire to learn and perform Jazz?
Probably, believe it or not before I ever started to play. J My mother  listened to jazz all the time around the house, Stanley Turrentine, Jimmy Smith, Eddie Harris, David "Fathead" Newman, were all regulars at the Carr house. She bought me one of those plastic saxophones when I was real young, so I knew going to play the saxophone when I got older.
Who are two people who were influential in your early education as a Jazz musician?
My first band director was a jazz saxophone player, Warren E. Turner, he still plays. Mr. Turner went to school with another "Texas Tenor" Billy Harper, and he would tell me stories about how much Billy would practice. Mr. Turner was a great teacher and got me started in jazz.  In high school, it was the legendary jazz educator Conrad Johnson, who also was a saxophone player and director of the Kashmere Stage. The Kashmere Stage Band was famous, the band won jazz festivals throughout Texas and also traveled abroad. There is a movie that's  being shopped around in Hollywood right now about Conrad Johnson's life and the Kashmere Stage Band. So being a part of that legacy is very special to me.
Why is it important to have a festival like the MAJF that features established regional artists as well as young musicians?
Jazz is language that is best learned by listening, observing and performing in my opinion. Being a jazz educator myself, I realized how valuable it was to have professional jazz musicians perform in our own backyard during this time of the year. High school jazz bands would also perform and showcase their programs and in turn inspire even younger jazz players or listeners. Simply, not having the East Coast Jazz festival the past three years has been devastating to our jazz community on many levels and the hardest hit was jazz education. I applaud Suzan Jenkins for creating the [Jazz] interest group that started the conversation and initial organization of first Mid-Atlantic Jazz Festival. I hope other musicians with the wherewithal and energy create and/or support events with a strong commitment to Jazz education like the MAJF, because I feel it's the only way sustain and the grow Jazz music.
The Mid-Atlantic Jazz Festival will be held at the Hilton Rockville from Friday, February 19 to Sunday, February 21. More information is available at www.MidAtlanticJazzFestival.org.