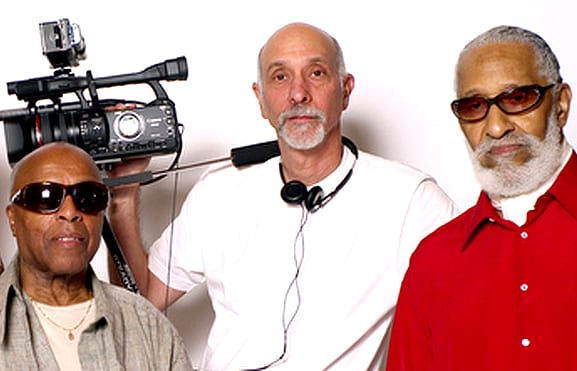 An NYU Film School graduate, Bret Primack began producing video for the web in 1999. His documentaries and video podcasts include Orrin Keepnews, Producer for the Concord Music Group and The Sonny Rollins Podcast for Rollins' own Doxy Records, an ongoing documentary about the Saxophone Colossus. Read what makes the "Jazz Video Guy" tick.
What initially attracted you to Jazz music?
My Dad was a pianist who listened to big band music so I heard Duke Ellington, Count Basie, Stan Kenton and Maynard Fergsuon quite a bit, when I was very young. But the real catalyst for my interest in Jazz was Louis Armstrong. I saw him on TV and in a movie called The Five Pennies, with Danny Kaye. Pops was so dynamic that I wanted to jump into the screen and join the parade. Eventually, I did.
When was the moment you realized you had a passion for Jazz?
My involvement with this music has been as a writer and filmmaker. I went to NYU Film School in the late 60s, where I spent my days studying with Martin Scorsese and my nights hanging with musicians in the kitchen of the Village Vanguard. After I graduated, I worked in documentaries and industrials for a few years but eventually became a Jazz Journalist for Down Beat and  JazzTimes. I wrote hundreds of articles and liner notes and happily got online in the mid-90s, helping to found the first major Jazz site, Jazz Central Station. As the Pariah, I was also the first Jazz blogger, in 1997 on my site Bird Lives. While creating websites for Sonny Rollins, Billy Taylor and Joe Lovano, I returned to filmmaking in 2005 and now, I work as the Jazz Video Guy.
I've never been a critic, my approach is to let musicians tell their stories. That's what made me want to write about musicians, and create documentary films, their stories.
Who are two people who were influential in your early education as a Jazz musician?
As a writer, Nat Hentoff and Ralph J. Gleason were early influences. I admired their knowledge and appreciation of the music, as well as their ability to share that with readers without making themselves the center of attention.
As a filmmaker, some early TV, particularly the detective show, Peter Gunn, and also the character Maynard, G. Krebs, from the show, Dobie Gillis. Peter Gunn turned me onto film noir, and of course the music was totally cool. Maynard G. Krebs, played by the actor Bob Denver, was the first beatnik on network TV, and perhaps the first sitcom character who dug Bird and Miles.
As an artist performing nationally and internationally, what are a few reasons you find it's important to perform at the MAJF?
I'm going to be doing two things at the MAJF, screening my films, and also shooting performances and interviews.
As a filmmaker, I'm lucky to be creating at such an exciting time, when I can post my films on the web and reach a global audience immediately. My audience interacts via YouTube comments, email, and on Facebook.  Their comments, their support and encouragement arrives regularly, and with ten million views on YouTube for my video, I know there's a lot of people on this planet who love Jazz, and also enjoy watching Jazz video.
Having the opportunity to share my work with a live audience and get their feedback is even better!
It's also big fun to shoot video at a Jazz Festival. I'll be shooting some of the performances, interviewing musicians and also, the always enthusiastic audience.
Tell us a bit about the impact that Jazz festivals had on your growth as musician during your early years as a performer.
I've been going to Jazz festivals since I was a teenager and they've provided some of the happiest moments of my life. As much as I listen to recordings and watch performances on film and video, live Jazz is unique because of the way an audience impacts the music.
At a Festival, it becomes a community event and a very uplifting experience. People check their troubles at the front door and come to have a good time. These are difficult times for many people and the opportunity to come together for such a positive experience is something I really treasure today.
See some of Bret's videos on his YouTube channel.
The Mid-Atlantic Jazz Festival will be at the Hilton Rockville from Friday, February 19 to Sunday, February 21. More information is available at www.MidAtlanticJazzFestival.com. Special thanks to Jason Byrne at Red Cat Publicity for arranging this interview.