Meet our new Public Art Intern Mariza June Avila, an aspiring graphic designer and recent graduate from Montgomery College. We sat down with her to learn about her background in the arts and what she is looking forward to most with AHCMC!

AHCMC: So tell us about yourself.
Mariza: I'm a first-generation Filipino-American, originally from San Diego, California. Last fall, I received my Associates of Arts from Montgomery College. I plan to transfer next spring and hopefully major in a mix of graphic design and traditional printmaking. As I have lived near the downtown Silver Spring area on and off for almost 10 years, I'm eager to deepen my relationship with the local arts and humanities community of Montgomery County. I am very thankful to CEO Suzan Jenkins for allowing me to continue learning with AHCMC as the Public Art intern!
AHCMC
: What has your internship been like so far?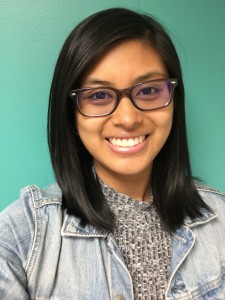 Mariza: It's been quite an adjustment. Initially, I joined AHCMC through the Montgomery College Art Internship. When I started four months ago, I knew I would be dipping my toes into a little bit of everything, but I wasn't sure to what extent. The AHCMC staff have been patient with me, showing me the ins-and-outs of operations. Upon learning that Amina, the Public Art Manager, would be departing, I felt like I still had so much to learn and would feel guilty if I did not "hold down the fort" until a new manager is hired. With two exhibitions already under my belt (The Shape of Things to Come and The County Collects II), I'm looking forward to the process of acquiring artwork as we wrap up the FY19 Contemporary Works on Paper Collection call.
AHCMC: What led you to the arts field?
Mariza: Honestly, college led me to pursue art. Since my dad is a civil engineer and my mom is a surgical technician in the operating room, I assumed I should be pursuing a STEM career. Outside of my studies, however, I was always involved in art. Growing up, I learned how to sing by listening to music. I sang in the school chorus, learned the clarinet and guitar, and eventually performed in talent shows. My "happy place" was at home, collaging, scrapbooking, and conducting experiments in my art journal. I also enjoyed taekwondo and being a member of my high school's drama club. When I started taking art classes at MC Takoma Park/Silver Spring, I observed the successes and toils of being an artist from the staff, my peers, and professors, but I wasn't deterred. Although it is a challenging lifestyle, I came to realize the arts have played an instrumental role (pun intended) in my journey of becoming the person I want to be.
AHCMC: What are you most looking forward to as the Public Art intern?
Mariza: I'm looking forward to getting involved in Public Art commissions. I want to see projects from the beginning planning stages to finish and conservation. I haven't encountered an opportunity like that yet, so it would be interesting to get hands-on experience with the process. Also, I look forward to getting to know the AHCMC staff better. I absolutely love that most of us are artists in our own regard. I think our diverse backgrounds and interests definitely reflect the community we are representing.