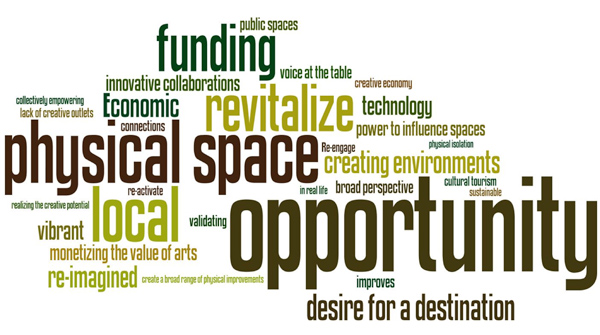 We want to hear from you!
The Arts and Humanities Council of Montgomery County is planning an exciting new initiative to transform local communities in Wheaton through the arts and humanities.
In FY15, we received an appropriation of $90,000 to be used to stimulate the Wheaton Arts and Entertainment District. These new grant funds will target artists, scholars, and arts and humanities organizations in Wheaton, MD to support its burgeoning growth as an acclaimed cultural destination.
We are exploring a variety of creative placemaking projects that may include live performances and music series, temporary arts installations, projects that convert underutilized public and private spaces into sites for arts experiences, and more.  Our community organizer Alex Cartagena has been on the ground in Wheaton introducing our initiative to the public and getting feedback and ideas from local artists, individuals, and organizations.
Get Involved.
Voice your opinion at one of the several charrettes we are hosting to give residents and other stakeholders in Wheaton a chance to share their ideas  on what types of projects we should support.
Then, in January 2015 we will have finalized the guidelines for these grants, which will be awarded by June 30, 2015.
The possibilities are endless – that's why we are asking community members to share with us their artistic vision and aspirations for Wheaton.
How do you think the arts and humanities can make a difference in this unique community?  Email us your thoughts, ideas, and suggestions at info@creativemoco.com and stay tuned to our FB page for more information!