Originally from Brooklyn, NY, Krystle Seit is a theatre educator and actor with a passion for sharing art and making it accessible to everyone. We sat down with Krystle to chat about her background in the creative sector, what led her to arts management and more.  
AHCMC: So, tell the readers a little about yourself. 
Krystle: My name is Krystle Seit pronounced as "crystal" and "sight". It is spelled nothing like it sounds, a silly fact I always share when I teach.  I'm originally from Brooklyn, New York, I grew up in New Jersey and New York, and first moved to the DMV area in 2012. Creativity and connection have long been important to me, and I've had a passion for theatre and storytelling for as long as I can remember.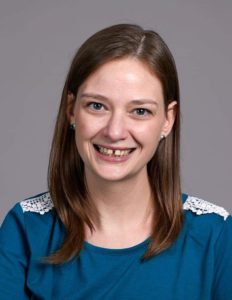 AHCMC: What led you to work in the arts management field? 
Krystle: I always wanted to work in the arts – primarily theatre and theatre education. Over the years, it became apparent that sharing art and making it accessible, especially to underserved communities, was just as important as creating art. I also have an affinity for planning and problem-solving. My time in arts management and grantmaking allowed me to combine those things while working with artists and arts organizations to support their artistic practice in our communities.  
AHCMC: Tell us more about your background as an arts administrator and your experience as an actor. 
Krystle: As a theatre person with a teaching certification, I am no stranger to paperwork or the number of "pieces" involved in putting up a show or teaching a lesson. I find it fun! Therefore, arts administration was often part of my professional life, whether working as an office manager for a Theatre Conservatory or as an education program manager. The skills I acquired from theatre and performing transfer to almost anything I do. For example, teaching a creative drama lesson to a class of 3–4-year-olds definitely requires some improvisation, public speaking, reacting, and memorization.  
In terms of acting, I recently participated in a couple of productions by "Spoonie Theater" – a virtual theater group that provides folks who may not be able to do traditional theatre with opportunities to audition and perform. It's been wonderful to find them and perform again.  
AHCMC: What have your first few weeks at AHCMC been like?  
Krystle: Exciting! I am absorbing as much as possible, and seeing some of the processes in action has been great. Each week I learn more about AHCMC, grantmaking, funding opportunities, and the rich and diverse creative community here in Montgomery County.  
AHCMC: Tell us a fun fact!  
Krystle: I enjoy writing and connecting people; I'm an ordained minister and officiate weddings! I love working with couples and families to craft personal ceremonies.  
AHCMC: What are you most looking forward to as the Grants Coordinator? 
Krystle: Continuing to learn about Montgomery County's creative sector and expanding my own grants knowledge and experience. I also look forward to contributing to AHCMC's overall mission by supporting my colleagues and our constituents!